American Airlines and JetBlue Airways have sharply criticized a judge's decision to dissolve their so-called 'Northeast Alliance'.
In a shock ruling late on 19 May, a federal judge said the companies' four-year collaboration in the Northeast USA - encompassing Boston and New York City – is unlawful and violates the Sherman Anti-Trust Act. The decision calls for the venture to be terminated within 30 days.
The US Department of Justice (DOJ) had sued the carriers in September 2021, claiming their cooperation stifled competition in the region. The trial was held recently in Boston.
"We believe the decision is wrong and are considering next steps," Fort Worth-based American Airlines says. "The court's legal analysis is plainly incorrect and unprecedented for a joint venture like the Northeast Alliance."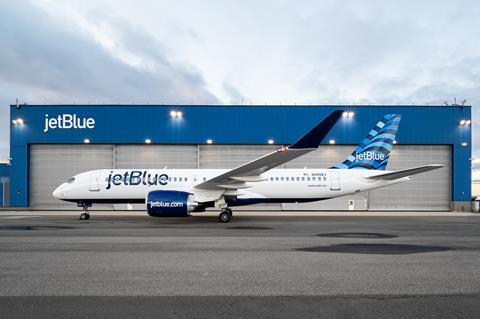 JetBlue, meantime, says it's "disappointed" in the judge's ruling.
"We made it clear at trial that the Northeast Alliance has been a huge win for customers," JetBlue says. "Through the NEA, JetBlue has been able to significantly grow in constrained Northeast airports, bringing the airline's low fares and great service to more routes than would have been possible otherwise."
In his ruling, Massachusetts federal judge Leo Sorokin ordered the partnership dissolved. His decision says US government lawyers "convincingly established that the NEA violates… the Sherman Act" and that the collaboration "substantially diminishes competition".
In addition, the airlines offered "minimal evidence of any cognizable pro-competitive effects" of the alliance, he writes.
American says that is not true.
"There was no evidence in the record of any consumer harm from the partnership, and there is no legal basis for inferring harm simply from the fact of collaboration," American continues. "The Northeast Alliance has been a huge win for customers and anything but anti-competitive."
New York-headquartered JetBlue adds that it is "studying the judgement in full and evaluating our next steps as part of the legal process".
The parties have 21 days to respond to the ruling.
With additional reporting by Howard Hardee.