American Airlines has appealed a court ruling that struck down its so-called "Northeast Alliance" (NEA) with JetBlue Airways, the Fort Worth-based airline said on 25 September.
The two companies suffered an unexpected blow in May when a US federal court declared their almost four-year collaboration in the Northeast US as being unlawful. The agreement had allowed American and JetBlue to intertwine operations in New York and Boston by sharing revenue, coordinating schedules, codesharing and offering reciprocal benefits to frequent flyers.
The airlines had described as a pro-consumer and pro-competitive agreement.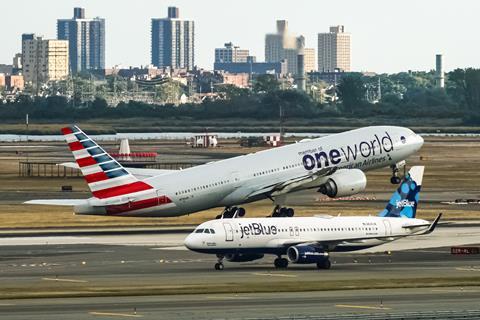 But in September 2021, the US Department of Justice (DOJ) sued to stop the NEA, claiming the deal violated an anti-trust law. On 19 May, the court sided with the DOJ. District judge Leo Sorokin ordered the partnership unwound and dissolved.
Calling it a "difficult decision", JetBlue quietly complied with the ruling to permanently unravel the alliance, and said it would not appeal the decision.
The New York-headquartered carrier then turned its attention to its planned $3.8 billion acquisition of ultra low-cost carrier Spirit Airlines, which it hopes to close by early 2024, but which has also faced a series of legal roadblocks.
JetBlue has said that the Spirit deal would be "the best and most effective opportunity to truly transform the competitive landscape" in the USA. However, the DOJ disagrees, and has also sued to stop it. The trial is scheduled to begin in October, but that date is now in question due to a possible government shutdown that could begin later this week.
American, however, in July pledged to appeal Sorokin's decision, even though the alliance is effectively dead.
The carriers told the court in July that they would terminate the alliance within several weeks, with the wind-down process continuing "over the coming months".