"See you in court." That is American Airlines chief executive Doug Parker's position on the US Department of Justice's lawsuit seeking to unwind the carrier's partnership with JetBlue Airways.
Speaking on 21 October, Parker adopted a belligerent tone with the DOJ, signalling no intention of backing down or even seeking a settlement with the US government.
"They sued us, and we are going to go win the lawsuit," Parker says. "They are wrong. This is highly beneficial to consumers… See you in court."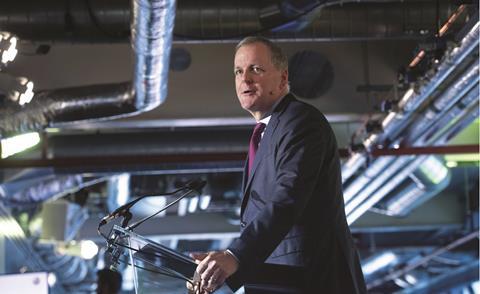 American and JetBlue spent much of the last year implementing a partnership called the Northeast Alliance, under which they are codesharing and co-ordinating flight schedules at Boston Logan International airport and New York's three major airports – LaGuardia, Kennedy and Newark.
The airlines say their co-operation gives more flight choices to travellers and helps them better compete against larger New York players Delta Air Lines and United Airlines.
But the DOJ sued the carriers in federal court in September, alleging the partnership violates anti-trust law. The government calls the Northeast Alliance a "de factor merger" in New York and Boston, saying it eliminates any incentive for the pair to compete with each other.
The lawsuit comes amid a broader push by the administration of president Joe Biden to promote competition.
"The company is not interested in any sort of talks about settling this," Parker says. "We're perplexed as to why they filed this lawsuit."
"We feel extremely good about this case, and it gets better every day as we continue to expand and provide more services to customers," he adds.
American says the JetBlue deal provided the economic benefit necessary to support its recent launch of flights from JFK to Tel Aviv and Athens. The deal has also let American replace smaller regional aircraft with larger jets in New York. JetBlue, meanwhile, says the partnership let it expand to nine new cities and add 32 new routes.