The US Department of Justice is tussling with American Airlines and JetBlue Airways over whether the carriers should be allowed to maintain codeshares and reciprocal frequent flyer benefits in the Northeast USA.
Attorneys for the government and airlines filed court papers dated 9 June in which they made cases about retaining such benefits. The moves come after a federal judge on 19 May ordered the airlines to disband their Northeast Alliance (NEA) joint business.
Through the NEA, American and JetBlue closely knitted their operations from New York and Boston, including through sharing revenue, co-ordinating schedules, codesharing and offering reciprocal benefits to frequent flyers.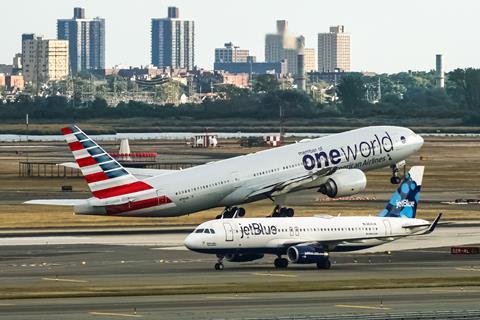 The judge's 19 May ruling agreed with a DOJ lawsuit that the NEA violated anti-trust laws, and gave the airlines 30 days to unwind the agreement.
In newly-filed court papers, the DOJ says that, despite the ruling, American and JetBlue intend to continue codesharing and offering reciprocal frequent flier benefits in New York and Boston.
"Defendants now seek to leave some of the contracts governing the NEA in place… Allowing portions of the NEA to remain in place indefinitely would provide incomplete relief," DOJ lawyers say in a 9 June filing. "The court should reject defendants' invitation to craft a new 'NEA Lite' on the fly."
But American and JetBlue insist that maintaining codeshares and frequent-flier benefits would not violate the judge's decision, saying such partnerships lie outside the scope of anti-trust laws.
Codeshares and frequent-flyer "agreements are common, pro-competitive, and customers often use them to book air travel with a more-efficient route or a lower fare," the airlines' 9 June response says. Those aspects "are not allegedly unlawful aspects of the NEA".
The DOJ also requested the court establish provisions intended to keep American and JetBlue from entering into new agreements that might similarly violate anti-trust laws. Specifically, US attorneys asked the judge to require the carriers for five years to notify the DOJ if they strike up any new "agreements, partnerships or joint ventures" with any other US airlines, the DOJ's court filing says.
American and JetBlue are fighting that proposal, saying, "There is simply no need to impose additional, burdensome notice procedures on top of the scrutiny that [their] actions already receive".