American Airlines lost $2.2 billion during the fourth quarter of the year, bringing its full-year loss to $8.9 billion as the coronavirus continues to plague the industry.
In 2019, the company posted a profit of $1.7 billion, of which, it earned $414 million during the fourth quarter.
The Fort Worth-based carrier says on 28 January that revenue for the final three months of 2020 was about $4 billion, down 64% from the $11.3 billion it posted in 2019. For the full year, American had revenue of $17.3 billion, which compares to $45.7 billion in 2019.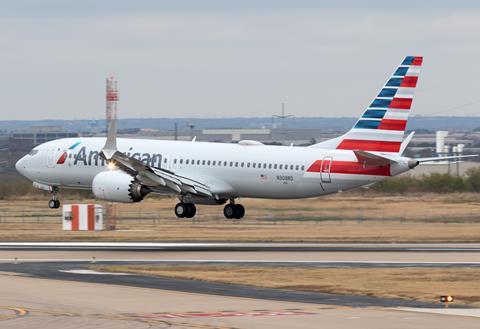 "Our fourth-quarter financial results close out the most-challenging year in our company's history," says chief executive Doug Parker. "As we look to the year ahead, 2021 will be a year of recovery. While we don't know exactly when passenger demand will return, as vaccine distribution takes hold and travel restrictions are lifted, we will be ready."
The airline, like peers, seems to be in a holding pattern, waiting to see what effect vaccines will have on its business. But American's executives do see light at the end of the tunnel.
"We are confident that the actions we have taken to improve our customer experience, enhance our network and increase our efficiency position us well for the future," Parker adds. "Progress is being made every day, and that's encouraging."
American ended the fourth quarter with about $14.3 billion in liquidity, and managed to reduce cash burn to $30 million daily from $40 billion daily in the third quarter. Cash-burn levels are expected to remain stable for the first quarter of 2021.
During the first three months of the new year, American expects to operate about 55% of the capacity it operated in the same period last year. Revenue will be 35-40% lower than in 2019, the airline says.
Leisure travel remains the biggest driver, as business travel lags. Executives say this is not likely to change quickly, due partly to revised budgets at corporate accounts.
"The reality is that corporate travel demand is down, [at] 5-10% of historical levels. And though we are optimistic that it will return as vaccines are distributed, the timing, speed [and] rate of that is unclear at best," says Vasu Raja, the carrier's chief revenue officer.
But the pandemic has positively effected efficiency, executives say. American's fleet restructuring programme – undertaken in response to the pandemic – and the dramatic decline in demand have brought American to a position where it could operate 2019 capacity with significantly fewer aircraft.
The airline retired five aircraft types – Embraer E190s, Boeing 757s and 767s, Airbus A330s and MHIRJ CRJ200s – as well as several older regional aircraft, also placing a number of older 737-800s in temporary storage. The airline removed 150 aircraft from its fleet, replacing them with newer, more-efficient types and bringing the average age of its jets 11.2 years, says chief financial officer Derek Kerr.
"We have a significant amount of utilisation and gauge increase in our fleet," Kerr adds. "In order for us to get to 2019 levels we would not need anywhere near that many aircraft as we did in 2019."
"We could eventually reach 2019 levels of capacity with approximately 10% fewer aircraft."
The airline received 10 737 Max aircraft in the fourth quarter of 2020, following the type's un-grounding in November, and expects to get another seven this quarter, Kerr adds. According to Cirium fleets data, the airline still has 23 Max in storage and 60 on order.
American was the first US airline to resume Max revenue flights, operating a round-trip flight between Miami and New York's LaGuardia airport on 29 December 2020.
FORWARD BOOKINGS
Chief revenue officer Raja says that the airline has seen forward bookings decline after the introduction of new travel rules governing passengers arriving from overseas took effect on 26 January.
This week the US government began requiring a negative coronavirus test result no older than three days for all passengers boarding inbound aircraft.
Raja declined to make any predictions for what effect this would have on the spring break travel season, roughly from late February through April, a time when young people traditionally trek to southern beach destinations in the US, Mexico and the Caribbean.
"What makes demand forecasting so unique and challenging in these times is that 75% of the booking curve is inside 45 days," Raja says. "What we have seen is that as there have been more restrictions on international travel, international bookings have roughly halved in the past seven days versus the first two weeks of January."
"It remains to be seen how much that trend holds," he adds, saying the airline is going to be "as limber as possible" through the quarter.
That said, the airline has ramped up capacity to its Latin American destinations, a region in which the carrier has traditionally been strong. American's president Robert Isom says the airline is expecting traffic to and from the region to recover "sooner" than other regions.
"The February-March schedule in our Latin America network is in many cases larger than that was there before the pandemic," Raja says. "Where we see testing stood up very quickly, international bring-back will be a product of where demand is and how fast testing can get ramped up."
DOMESTIC COVID TESTS?
In recent days, the US Centers of Disease Control and Prevention began "actively looking" at requiring Covid-19 negative tests for domestic air travellers, according to reports. Such a requirement is already in place for arriving international air travellers.
American's Parker pushed back against domestic-travel Covid-19 testing, reiterating the industry's insistence that Covid-19 transmission in aircaft is unlikely.
Such a move "seems like something that would both be difficult and have us testing Americans on airplanes that we know are safe," he says, adding that American has not officially discussed such a mandate with government.
Short-haul international travel – primarily to Mexico and the Caribbean - has taken the biggest hit since the international testing mandate was introduced, executives say, and more rules would cause consternation and additional uncertainty.
Parker says American supports testing for international travellers.
"We have worked with regulators and the administration to make that happen," he says. "We're hopeful that the administration gets comfortable with allowing borders to be more open and people from Europe to begin travelling into the US at some point."
Airline trade group Airlines for America (A4A) did not respond to a request for comment on a possible domestic testing regime.