American Airlines reported a $2.4 billion third-quarter loss and announced additional fleet retirements as it joins industry peers in lurching toward a new normal following the shock of the coronavirus pandemic.
The Fort Worth-based carrier lost $2.1 billion in the second quarter and $2.2 billion in the first quarter, bringing its year-to-date losses to $6.7 billion.
American says on 22 October that its revenue in the quarter ending in September was $3.2 billion, down 73% year-over-year.
"We have worked relentlessly to right-size all aspects of the airline," chief executive Doug Parker says. "We are going to be more efficient, and we are using this opportunity to build back what makes sense."
With tentative signs that customer confidence in air travel is improving, he adds, "We continue to evolve in this new era of travel".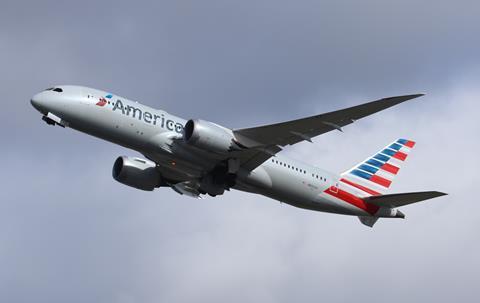 The airline reports improved passenger demand and load factors during the third quarter. Still, American projects overall capacity in the final three months of the year will be down 50% from the same period a year ago, with international long-haul capacity down about 75%.
The last quarter includes the all-important Thanksgiving holiday, traditionally the strongest travel weekend of the year in the USA, as well as the Christmas and New Year's celebrations. But uncertainty stemming from increasing coronavirus case counts in numerous USA regions could dampen what airlines hope will be the beginning of an upswing. American's executives, though, remain optimistic.
"We do anticipate that the Thanksgiving period and the second half of December will be relatively stronger," says Vasu Raja, American's chief revenue officer, noting passenger numbers have increased sequentially over several US holiday weekends since July.
As customers begin resuming more normal activities, "shortly thereafter air travel spending resumes", Raja says. "Even with current rates of [coronavirus] case growth, we continue to see [improvement] in many geographies that are most critical for American."
"Travel will come back when there are things to do," he adds. Quarantines, currently in place in parts of the US and numerous overseas destinations, are "not helpful". The airline has joined peers in advocating pre-departure testing programmes that could replace the existing restrictions, which that have chocked demand.
The Transportation Safety Administration, which is responsible for security at about 450 US airports, said this past weekend it screened more than 1 million passengers for the first time since March, representing about a 40% of recovery from 2019 passenger screening levels.
FLEET RETIREMENTS
A major step toward cutting costs and increasing efficiency was American's retirement of 157 aircraft, including Boeing 757s and 767s, Embraer E190s, Airbus A330-300s, Bombardier CRJ-200s and other regional aircraft types, the carrier says.
American now also plans to retire its 15 A330-200 aircraft, simplifying its fleet to four types: A320s, 737s, 777s and 787s.
"The operating efficiencies on the crew, maintenance and schedule are permanent," chief financial officer Derek Kerr says.
The airline also reached an agreement with Boeing to defer delivery of 18 737 Max – aircraft previously scheduled for hand over from 2021 to 2024. American currently has 24 examples of the grounded jet in storage, and 76 more on order.
It has begun to schedule the type, which has been out of service for more than 18 months following two fatal crashes that killed 346 people, beginning at the end of December. But executives say they will be flexible on when American resumes Max flights.
"Based on what we are hearing," the aircraft will be recertified in November, and could be back in service "a month after that", Raja says.
As a result of the retirements and other cost saving measures, the airline reduced its daily cash burn to $44 million at the end of the third quarter, down from $58 million daily at the end of June. American expects that number will further decline to $25-30 million by year-end.
The airline ended the quarter with $13.6 million in liquidity, Parker says.
PAYROLL SUPPORT
American has slashed its payroll by almost 40,000 employees, about half of whom took volunteer leave or early retirement options. A remaining 19,000 were furloughed when US government aid to the industry – a package that prohibited airlines from making involuntary layoffs – expired earlier this month.
The relief, which has so far not been extended despite broad bipartisan support and intense lobbying from all corners of the air transport industry, is still desperately needed, executives say.
"It's not about getting money into airlines, it's about ensuring that critical infrastructure stays in place, and the importance of airlines to that infrastructure," Parker says.
Several proposals to extend the aid through the end of March 2021, under similar conditions, have been discussed in Washington, DC, but lawmakers continue to squabble over details. Parker says a potential six-month lifeline would be enough to enable US carriers to bridge the gap and be on their way to a recovery.
"Six months from now, we will have a better environment than we see today," he says. "People are getting more and more comfortable with travel, cities are opening up, so from an airline cyclicality perspective, we'd be heading into summer and increased demand."