American Airlines posted a $545 million loss for the third quarter of 2023 as its expenses jumped 9.4% year on year, including a 17% increase in jet fuel prices and a one-time charge related to its new pilot contract.
The Fort Worth-based carrier said on 19 October that its operating costs for the three months ending on 30 September came in at $13.7 billion, while revenue during the same period reached $13.5 billion, slightly more than last year.
That said, the company is framing the quarter positively, noting it turned a $362 million adjusted pre-tax profit for the three-month period.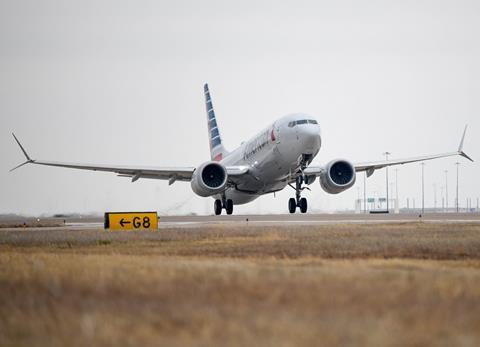 "The American Airlines team continues to produce strong results," says the carrier's chief executive Robert Isom. "Our team is delivering record-setting reliability and operational performance. We are executing on our plans and remain well-positioned for the future, supported by the strength of our network, our young and modern fleet and our outstanding team."
The results were "driven by a resilient demand environment and record-setting co-brand credit card and travel-rewards programme revenue". American's corporate and government travel revenue increased year on year.
In a letter to employees, Isom calls American's operational performance last summer "stellar", saying the carrier was the "most-reliable airline of any US network carrier over the past 15 months".
"While there were bumps along the way, such as significantly higher fuel costs that resulted in lower earnings in the quarter, our team continues to excel at controlling what we can control," Isom says.
Capacity as measured in available seat miles rose 6.9% year on year during the quarter, with domestic capacity rising 5.4% and international capacity up 9.9%.
American's revenue from domestic flights declined 1.9% year on year during the third quarter and its revenue from international services rose 5.4%. Transatlantic flights delivered the strongest gains, with revenue there rising 8.2% over the same period last year.
American expects to end 2023 with its full-year capacity at 6.5% more than in 2022, and it anticipates ongoing international revenue growth.
"We see really strong long-haul revenue trends," says chief commercial officer Vasu Raja. "Our revenue performance has never grown at a faster rate. We are encouraged by the journey we are on."
American has received 17 new jets this year and expects to take four more in the fourth quarter, executives say. It anticipates receiving its first Airbus A321XLR "late next year" and to take more of that type – which has yet to be certificated – in 2025 and 2026. The company has 54 A321neos on order, according to Cirium fleets data.
Due to supply-chain and manufacturing issues, deliveries of Boeing jets to American will also be delayed, says Isom, citing "a little bit of slippage going into next year".
American has 75 737 Max 8s and 30 787-9 Dreamliners on order with the Arlington, Virginia-headquartered airframer.