American Airlines posted a profit of $10 million – its first first-quarter profit in four years – as demand for air travel remained "dynamic".
The Fort Worth-based carrier said on 27 April that its revenue during the quarter jumped 37% year-on-year to $12.2 billion.
"We are well on our way to a fully recovered business, but we aren't there yet," says chief executive Robert Isom. "The current demand environment remains dynamic."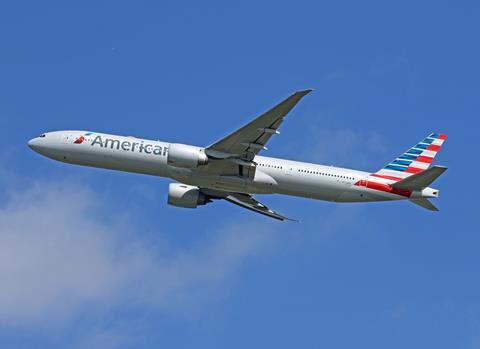 Domestic and short-haul international routes "continue to perform well, and the airline has seen noticeable strength in long-haul international demand and yield performance this year", it says.
"Long-haul international [travel] is seeing a lot more bookings come in, reflecting the pent-up demand that's out there," says chief commercial officer Vasu Raja. He predicts strong demand this summer for international flights.
After retiring its Boeing 767 and Airbus A330 fleets early during the Covid-19 pandemic in 2020, American now has 45 fewer widebody aircraft than in 2019, executives say. American is orienting its network around "places we can leverage our domestic strength, or markets where we can leverage our partner networks", Raja adds.
According to Cirium fleets data, American has 917 aircraft in service, including 122 widebodies (66 Boeing 777s and 56 787s).
REGIONAL JETS PARKED
The carrier and its partners continue to have about 150 regional jets parked, Isom says, though American expects many of those will be returned to service soon.
"We would be flying all of those planes today if we could," he says. "There are small cities throughout the country… that would demand more service, and they can only be served with regional jets to connect into our network."
"The largest issue we have been facing is the shortfall in pilots," Isom adds. "I would anticipate that virtually all those aircraft except for retirements for ageing aircraft will be back into the system."
The airline operated more than 476,000 flights during the first three months of 2023 – an average of almost 5,300 daily – with an average 80% load factor. Capacity rose 9% since the first quarter a year ago.
Like US competitors, American has seen customers booking earlier than they had previously. It also reports a subtle shift in travel patterns, which is working to its benefit.
"Consistent to a lot of the trends, we continue to see from a shift from traditional [trips] to a blended-style trip," Raja says. About one-third of the carrier's passengers are now travelling on leisure trips, another third are travelling on so-called "blended trips" – combining pleasure and business – and the final third are pure-play business journeys. Prior to the pandemic, that pure-business segment was about 40%.
"Very often… the blended yields are coming in at values higher than the business trips they replaced" – as much as 8-10% geater, he adds