American Airlines turned a $1.34 billion second-quarter profit as passenger demand continued rising and fuel prices fell by more than one-third since last year.
The Fort Worth-based carrier said on 20 July that revenue during the "outstanding" three-month period ending on 30 June hit $14.1 billion, a 4.7% increase year-on-year. For the first six months of 2023, the company achieved revenue of $26.2 billion, up 17% from the first six months of last year.
"It was another fantastic quarter for American, driven by the hard work of our team to deliver a reliable operation for our customers and the continued strong demand for our product," says chief executive Robert Isom. "Our operation is performing at historically strong levels, and we have worked to refresh our fleet and build a comprehensive global network, all of which helped to produce record revenues in the second quarter."
"The summer is well underway and the American Airlines team is firing on all cylinders," he adds.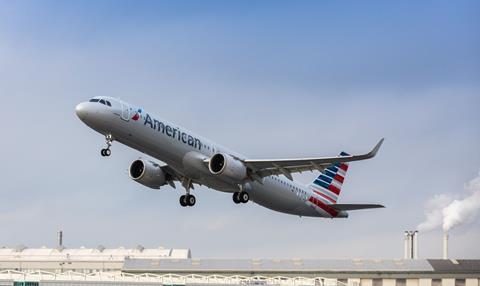 American's second-quarter domestic capacity as measured in available seat miles rose 4%, and international capacity jumped 7.2%, year on year.
The airline expects third-quarter capacity will rise 5-7% year-on-year and that its full-year 2023 capacity will be 5-8% more than in 2022.
American paid an average of $2.62 per gallon of jet fuel during the second quarter, down 35% from $4.03 in the prior-year period. The carrier expects fuel prices will remain stable during the third quarter.
American ended June with 944 aircraft in its mainline fleet and another 526 regional aircraft under its umbrella.
NORTHEAST ALLIANCE
American suffered an unexpected blow last quarter when a US court declared its almost-four-year collaboration with JetBlue Airways in the Northeast US as being unlawful. The US Department of Justice (DOJ) had sued to stop the so-called "Northeast Alliance" (NEA), which the airlines described as a pro-consumer and pro-competitive agreement. But the court sided with the DOJ, ordering the partnership unwound and dissolved.
The airlines have said they will do so by the end of this month.
American's chief commercial officer Vasu Raja now says the partnership's demise "will not be a margin drag", adding, "we expect to continue to preserve the margin trajectory".
"It's unfortunate that the NEA is terminated, but our commitment to customers in the Northeast hasn't changed," Raja adds. "The circumstances that gave rise to the NEA have changed."
"Though this chapter has closed, another might open."
American has said it will appeal the ruling.
PILOT CONTRACT
During the second quarter, American also reached a new four-year contract agreement-in-principle with pilot union Allied Pilots Association (APA). However, executives now say American plans to re-open negotiations with a goal of matching terms in a contract competitor United Airlines reached last week with its pilots' union.
"We are working on that right now. In our [tentative agreement] there were significant quality of life and compensation improvements. The vast majority are very close to what United has in their [agreement]," Isom says. "While there may be some adjustments that will be required for wages, it's not an inordinate amount."
United's flight deck crew will receive cumulative 34.5%-40.2% pay increases during the life of the four-year agreement, as well as signing bonus pay, and the deal will be retroactive to January 2020, union Air Line Pilots Association, International said on 15 July. The agreement will result in $10 billion "in value" over the life of the contract, it added.
"We are working with APA and our pilots, our intent is to match the wages that we are aware of in the tentative agreement that United has signed," Isom adds.