American Airlines sees the pace of the aviation industry rebound "accelerating" as shifts in customer travel behaviour have forced the carrier to be exceedingly flexible when planning its fleet.
The Fort-Worth-based airline says on 22 April that it lost $1.3 billion during the first quarter of the year, less than the $2.2 billion it lost in the same quarter last year, as the coronavirus began to tear through airlines' balance sheets. In the first quarter of 2019, the company posted a profit of $185 million.
American says revenue for the first three months of 2021 was $4 billion, down from the $8.5 billion it posted in the same quarter in 2020, and the $10.6 billion it reported in 2019.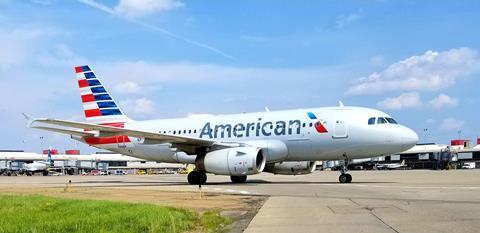 "We are a long way from where we need to be but there is no doubt the pace of recovery is accelerating," chief executive Doug Parker tells analysts on the company's quarterly earnings results call.
American ended the first quarter with about $17.3 billion in liquidity, and executives say that it is now at a stage where it is no longer looking to raise more.
Average daily cash burn fell to $27 million in the quarter that ended in March, from $30 million in the fourth quarter of 2020.
In the second quarter, the airline expects to fly total capacity of between 75% and 80%, with revenue down 40% from normal levels. Domestic and short-haul international leisure travel, for example to Mexico and the Caribbean, is expected to deliver most of that revenue.
"Our long-haul is going to be a very small part of our system this summer," says Vasu Raja, the carrier's chief revenue officer. He adds that Atlantic and Pacific long-haul travel, usually among the company's most important routes, will likely be 3-5% of total seat capacity during the peak of the summer travel season, while Latin America will be about 12%.
DEFERRING JETS
In order to save cash, the airline says it is deferring the delivery of some Boeing 787 and 737 Max jets.
American says it will convert five Boeing 787-8 aircraft orders to 787-9 aircraft, with deliveries now expected in 2023. The remaining 14 787-8 aircraft it has on order with the Chicago-based airframer will now be delivered by the end of the first quarter of 2022, American says.
"[American] exercised its remaining deferral rights on the Boeing 737 Max aircraft that were previously scheduled to be delivered in 2021 and 2022. With this adjustment, the delivery of these 18 Max aircraft is now expected to occur in 2023 and 2024," the carrier adds.
American was the first US carrier to bring back the beleaguered type following its ungrounding in November 2020. It took delivery of seven Max aircraft during the first quarter of 2021.
But the type was hit with another problem earlier this month when Boeing urged 16 operators of the jet type – including American, Southwest Airlines and United Airlines – to address an electrical concern before further operating the aircraft. No further details about that problem have been revealed.
American says 18 of its aircraft are affected and it hopes to have those aircraft back in the air "in a matter of weeks", the airline's president Robert Isom says.
"We have a pretty good idea of what the issue is and the remedies that need to be attended to," Isom adds. "The work we are doing is with Boeing and the FAA, we are waiting on service bulletins and the airworthiness directive, then getting the work done to get the aircraft back into the air."
Meantime, however, Isom says that the airline has reactivated all of its available aircraft and no longer has any in storage.
INTERNATIONAL TRAFFIC
In the absence of normal levels of international traffic due to ongoing travel restrictions and border closures, American says it is using its wide-body aircraft "concentrated disproportionately" on its domestic hub-to-hub markets as well as to and from sun belt destinations, Raja says.
But executives say they are speaking to the Biden administration about establishing possible travel corridors between the US and overseas markets, for example, the UK – one of the most critical international travel markets for the US major carriers.
"We are hopeful and encourage our government to engage with the UK," says Isom. "This is a bilateral matter and has to be predicated on safety of travel. We are encouraged and we are certainly ready when the opportunity allows and we know there is tremendous demand, both corporate and leisure to take advantage of, but we need to make sure we are coordinated with all government agencies to make sure we are doing it in an appropriate manner."
"There is no doubt that there is enormous pent-up demand for it," Parker says. "We all want to do this in a way that makes sense."
That said, if and when travel to Europe opens up for US citizens in the coming weeks, it may be too late for the airlines to take advantage of that opening in time for this summer's traditionally busy travel season.
Adding complexity to potential international travel, the US State Department earlier this week issued renewed warnings intended to curtail visits "to approximately 80% of countries" worldwide - including countries in Europe - that are currently seeing rapid rise in coronavirus cases. In addition, many countries are still barring US visitors as well.
"Even if much of Europe opens up now, a lot of customers who would have gone there would have booked trips to Hawaii already," says Raja.
Reciprocally, the US continues to be closed to citizens of numerous other countries in an effort to stem the spread of rapid transmissible mutations of the coronavirus. Airline and travel trade organisations have urged the government to develop a roadmap by 1 May that would re-open the country up to foreign visitors in order to stimulate the economy and save jobs in the sector. But so far, there is no indication when or if this will happen.