American Airlines sees promising signs of a rebound in air travel after the coronavirus pandemic decimated the industry earlier this year, but warns that the bounce in demand is tenuous, and from a vanishingly low level.
"We are down 90% on revenue, but it looks better as we look out to June," American chief executive Doug Parker says during the Berenstein Strategic Decisions Conference, held virtually this year, on 27 May. "We certainly believe the worst is behind us and we are on the uptick."
During most of April the airline flew at about a 15% load factor across its routes, Parker says. But during the last long weekend, which included the US Memorial Day national holiday on 25 May, the Fort Worth-based airline's load factor – albeit with a schedule far lighter than normal – topped 56%.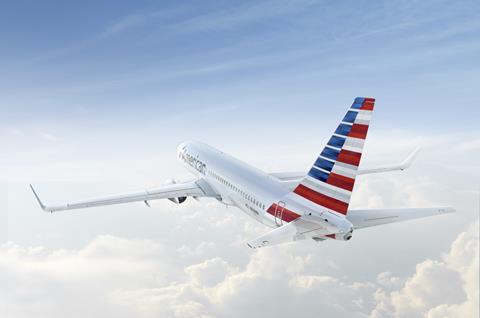 In the past eight days, for the first time since the crisis began, the airline is seeing positive booking rates for flights from three to 90 days out, meaning travellers are beginning to plan trips again, says American.
As had been forecast, demand on domestic routes is higher than on international, and leisure travel is picking up faster than business travel. Recovery will depend on the lucrative business sector coming back, executives say. The trend, they add, is encouraging, even if the absolute numbers are not.
The airline's survey of corporate clients revealed that 66% of companies no longer ban all employee travel, up from 47% seven weeks ago. Similarly, 18% of companies now have no travel restrictions, up from 8% at the end of March.
"When we get to half of the companies in the US that are not banning their people from flying, that's when we will see a more robust recovery," Parker says.
But the question remains: What will the industry will look like when a recovery takes hold? With all US airlines still struggling with liquidity issues despite government aid through the CARES Act, the sector could be significantly smaller than what executives and travellers had been used to.
"While some like to play the game of 'Gee, who's going to be in trouble', I think we are all going to be fine," Parker says of US major airlines. Some carriers will exit the crisis with more debt, "but I don't think you will see any of the airlines go by the wayside".
The long-term result, though, could be a significant industry reshuffle.
"The effect is going to be as if one large airline has gone away. The collective US airline business will be 20% smaller than it was in 2019, which is one really big airline," Parker says. "We are all going to be in it for the long haul, but that doesn't mean we will all be flying around the same number of airplanes. We are all building our airlines in a way that doesn't anticipate having 2019 revenues in 2021."
At the moment, American's daily cash burn is about $45 million, Parker says. The company is aiming for $10-20 million daily burn in the third and fourth quarters.
"We can get it down to that level in the back half of the year, but that's all dependent on the recovery," he says.
In April, American Airlines said it will be sending 99 aircraft into early retirement as a result of the crisis, streamlining its cost base and reducing complexity in its operations. The airline's Embraer 190s and Boeing 767s have been retired already, and 757s, Airbus A330-300s and Bombardier CRJ200s will follow. In addition, 40,000 employees have taken voluntary leaves.