American Airlines' chief executive thinks the post-coronavirus rebound may have begun, noting that customers are returning in great numbers to air travel.
Speaking at an investor conference hosted by JP Morgan on 15 March, the Fort Worth-based airline's CEO Doug Parker struck a positive tone, saying the widespread roll-out of coronavirus vaccines, coupled with pent-up demand, will drive a strong recovery in the coming months.
"The last three weeks have been the best since the beginning of the pandemic," he says. "It feels like the beginning of a very large uptick".
"There is huge pent up demand for domestic leisure travel, and that is coming back quickly," he adds.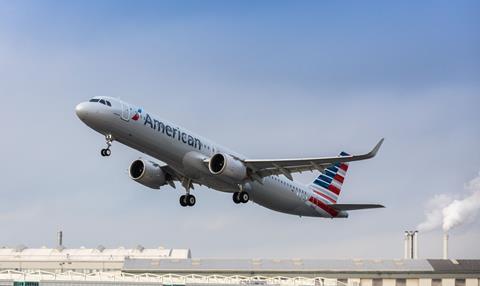 The airline has seen a massive increase in demand for domestic leisure travel, including from passengers visiting family and friends.That sector usually accounts for 45% of American's business but is now accounting for much more, he says.
Short-haul international travel, which the airline defines as trips to the Caribbean and Mexico, remains hindered by various travel restrictions, including the requirement that passengers receive a negative coronavirus test prior to returning to the USA. But resorts and hotels have started offering tests to guests, making travel less complicated, Parker says.
Flights to the Caribbean and Mexico typically account for about 10% of American's revenue.
Long-haul international and business travel, which normally generate about 45% of American's revenue, continue lagging and will take time to catch up, Parker adds.
But executives say American is on solid financial footing for the first time in more than a year.
"For the first time since this crisis hit we at American are not looking to raise any money," Parker says, adding that "it feels really good" to not have to worry about liquidity.
Last week, the US government set aside another $14 billion in financial aid as part of the "American Rescue Plan Act of 2021", to help airlines bridge the coming months in the hope that demand will rebound to pre-pandemic levels by the time this third financial aid package expires in September.
As a result of the new relief measures, American rescinded the planned furlough of more than 13,000 employees – a prerequisite for taking the aid.
A massive nationwide vaccination campaign that began three months ago is also gaining steam.
About 27% of the US adult population has been vaccinated, according to the US Centers for Disease Control and Prevention (CDC).
Airlines have been saying for months that increased customer demand will come with the roll-out of the vaccines. Airlines and tour operators are reporting an explosive increase in interest to travel following a year of lockdowns and travel restrictions.