Buffeted by hurricane winds, higher fuel costs and operational constraints, Spirit Airlines reported a loss of $36.4 million in the third quarter of 2022.
The discount airline's performance is down from the three months ending 30 September 2021, when it posted a profit of $14.8 million.
"Our current financial results are disappointing," Ted Christie, Spirit's chief executive, said during the company's third-quarter earnings call on 27 October. "However, we believe it is prudent for us to build back the network more methodically, which will allow our team to digest the growth and learn from our experience."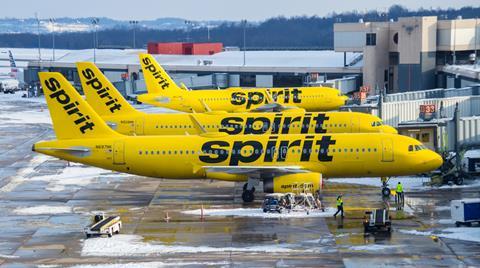 Spirit reports third-quarter operating revenue of $1.3 billion, up from $923 million during the same period in 2021. Revenue per passenger flight segment increased to $134.59, up from $110.91 in 2021, and the airline sees no signs of slowing demand in the leisure travel market.
"The business performed well against a set of negative headwinds during the third quarter 2022, including much higher fuel costs, Hurricane Ian, and Florida capacity constraints," Christie says. "Strong demand and sound revenue management coupled with excellent operational reliability and overall cost management helped mitigate the impacts of these headwinds."
Miramar, Florida-based Spirit cancelled about 550 flights in September and 400 in October due to Hurricane Ian, the airline says. The company estimates that the disaster-related disruptions resulted in a $10 million loss spread evenly between the third and fourth quarters.
The company reports "softness in bookings" for flights to and from Florida in the aftermath of the hurricane, estimating that fourth quarter revenue will be negatively impacted by an additional $3 million to $5 million.
Spirit previously has blamed air traffic control staffing shortages in Florida for its slow recovery from the Covid-19 pandemic. On 27 October, Christie says Spirit's aircraft are still underutilised and it is having trouble ramping up its schedule.
"We continue to face infrastructure constraints that are impeding our return to normalized margins and full utilization," Christie says. "One of the primary limitations is the constraint on flight volume to and from Florida."
Spirit continues to work with the Federal Aviation Administration on the issue but expects it to be a multi-year problem "limiting network optimisation," Christie says.
On 19 October, Spirit's shareholders voted to approve the company's acquisition by rival low-cost carrier JetBlue, which Christie calls "an important step forward on our path to closing a combination that will create a compelling low fare challenger to the dominant US carriers". The transaction is pending federal regulatory approval.
Also in the third quarter, Spirit took delivery of four new Airbus A320neos, bringing the airline's fleet to 184 aircraft.
As of 30 September, Spirit held $1.3 billion in unrestricted cash, cash equivalents and short-term investments, down from $1.9 billion on the same date in 2021.