All Nippon Airways parent ANA Holdings expects to be loss-making for the full-year, as it cites a "delay in full recovery" from the "extended impact" of a prolonged coronavirus pandemic globally.
The forecast, issued alongside its half-year financial results, reverses earlier expectations of a return to profitability.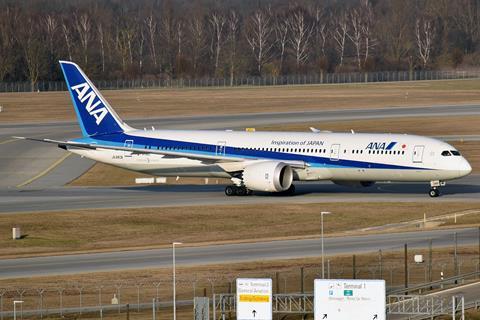 For the year ending 31 March 2022, ANA Holdings now expects an operating loss of Y125 billion ($1.1 billion) — compared to the Y28 billion profit it previously forecast in April.
Says the company: "Despite a promising outlook for international cargo demand, the extended impact of Covid-19 — due to outbreaks of variants — has resulted in a much larger decrease in passenger demand than first anticipated."
ANA Holdings now expects a revenue decrease of Y320 billion for the full year, to Y1.06 trillion, despite reporting an uptick in domestic travel demand.
To this end, the company says it will further cut fixed costs, to reduce its expenses for the year. Areas that will see expense cuts include maintenance, as well as outsourcing, says ANA Holdings.
Still, it expects to eke out a profit in the final quarter of the financial year, as it "[leverages] the new cost structure to create profitability by harnessing recovering travel demand".
ANA Holdings narrowed its half-year losses on the back of strict cost-cutting, as well as a significant uplift in revenue. For the six months ended 30 September, the company reported an operating loss of Y116 billion — compared to nearly Y268 billion red ink the same period in 2020.
The group saw operating revenue for the period rise nearly 48% year on year to Y431 billion, helped by strong cargo demand. Costs, meanwhile, dipped 4.5% to Y547 billion, despite an increase in operations.
By business segment, ANA Holdings' air transport segment — made up of mainline carrier ANA, low-cost unit Peach Aviation, as well as air cargo operations — significantly narrowed its losses on the back of revenue uptick.
ANA carried 327,000 international passengers for the half-year, a 69% increase year on year, with capacity rising 74% and traffic growing 71%.
On the domestic network, ANA reported a 53% jump in passenger numbers, despite a long-drawn lockdown imposed in Japanese capital Tokyo.
Against 2020's lower base, domestic capacity grew 29%, while traffic rose 55%.
Low-cost carrier Peach, too, saw revenue go up during the period, reporting a 55% jump to Y13 billion.
As for cargo, both international and domestic freight services reported revenue growth. ANA more than doubled its takings on international cargo services, to Y138 billion, and carried 476,000t of cargo during the period — double the volume last year.