ANA Holdings has announced its strategy to reduce carbon emissions with the aim of achieving net-zero C02 emissions by 2050.
"We are dedicated to achieving our sustainability goals by 2050 and are making investments in multiple areas to meet our commitments," says ANA holdings president and chief executive Koji Shibata.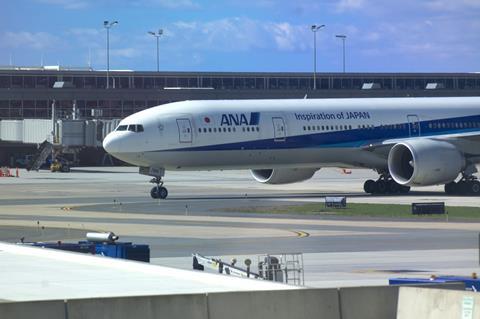 "Sustainability is a top priority for ANA and by establishing the transition strategies, we hope to lead the airline industry forward into a carbon-neutral future."
In the immediate term, ANA aims to reduce fuel consumption through improved flight operations, additional engine cleaning, and weight reductions aboard aircraft. It will collaborate with the Japanese government in regard to air traffic system improvements, and increasingly rely on more efficient engines and aircraft.
Also, ANA aims to replace 10% or more of its fuel consumption with sustainable aviation fuel by 2030.
Carbon trading schemes and the direct air capture of CO2 round out its plans to reduce emissions.
In addition, it is working with Airbus and Boeing on ways to reduce emissions.
"With Boeing, ANA will work together on the development and utilization of sustainable technologies in Japan, including electric, hybrid, hydrogen and other novel propulsion systems," it says.
"With Airbus, ANA has entered into agreement on a joint research project for the development of hydrogen aircraft and infrastructure. While hydrogen and/or electricity-powered aircraft are not included in our transition strategy at this time, the partnership will help ANA Group to diversify its range of options to achieve the Group's environmental goals by obtaining timely information on advanced technologies and the global ecosystem."
To help fund its environmental efforts, ANA will issue "green" bonds.
Two aviation trade bodies of which ANA is a member – AAPA (Asia Pacific Airline Association) and IATA – have both pledged to achieve net-zero carbon emissions by 2050.