Apollo Global Management is selling another another six million shares of Sun Country Airlines in a secondary public offering – a move coming two months after a successful initial public offering left the carrier flush with cash and valued at $1.84 billion.
Minnesota-based Sun Country's shares began trading on the Nasdaq exchange on 17 March under the ticker SNCY, priced at $33 per share, more than its original expectation of $21-23 per share. At the time, 9 million shares were sold.
New York-based Apollo, the company's majority shareholder, took over the airline in 2017.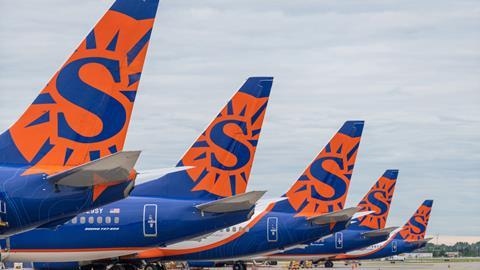 The IPO raised $218 million for the ultra-low-cost carrier, which executives said would be used to purchase more jets,and to pay off a government loan.
Last month, the airline said it paid off its $45 million CARES Act loan, granted in mid-2020 to help weather the coronavirus crisis.
"Sun Country Airlines is not selling any shares and will not receive any proceeds from the proposed offering," the airline says in a 17 May filing with the US Securities and Exchange Commission.
Since going public, the carrier's shares have almost doubled in value, closing at $39.74 on 17 May.
Sun Country operates an all-Boeing 737 fleet, serving leisure markets as well as offering charter service and cargo operations with Amazon Prime Air-branded aircraft across the USA and to destinations in Mexico, Central America and the Caribbean.