Archer Aviation and United Airlines have formed a joint electric vertical take-off and landing (eVTOL) advisory committee for future air taxi operations.
The Palo Alto-based eVTOL developer says on 27 April that the committee will allow the companies to share expertise on maintenance and operations issues as Archer prepares to bring its air taxi to market.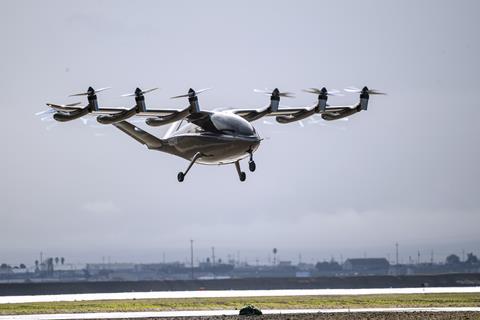 "The committee is set up to leverage United's experience with industry-leading operating strategies in commercial aviation, a key tenet of our business strategy," says Archer chief executive Adam Goldstein. "We understand that the adoption of UAM is about more than just the certification of our aircraft. United's operational experience here will be invaluable as we work towards delivering aerial ride-sharing at scale."
Michael Leskinen, president of United Airlines Ventures, adds, "Assembling this group of industry-leading talent and harnessing the valuable insights it yields will be a vital step in enabling consumer adoption of eVTOL."
The committee will comprise 10 members – six from the Chicago-headquartered airline and four from Archer.
The firms announced their collaboration just over a year ago, when United ordered 200 of Archer's in-development aircraft.
Archer unveiled a prototype of its aircraft last June, and flew it for the first time in December. Archer has said it aims to have the aircraft certified and in service by 2024.