Asia-Pacific airlines are hoping that digital travel pass technology will eventually see governments ease up on the restrictions that have crushed regional travel.
In a 17 March statement, IATA announced that the first flight with passengers using its new IATA Travel Pass app had arrived in London after a flight from Singapore.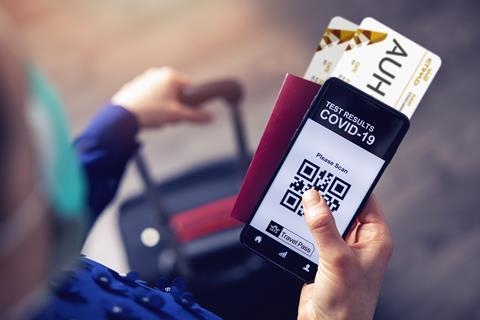 "The successful implementation of IATA Travel Pass in this trial with Singapore Airlines passengers demonstrates that technology can securely, conveniently and efficiently help travellers and governments to manage travel health credentials," said IATA director-general Alexandre de Juniac.
"The significance of this to restarting international aviation cannot be overstated."
SIA's trial will run during the second half of March.
The carrier says passengers can book a pre-flight Covid-19 test at one of seven local clinics, where they can register with the app. The app allows them to view their test results and confirms their status to fly. The system is backed by IATA's Timatic registry, which offers and exhaustive list of global testing and entry requirements.
SIA's Travel Pass flight comes amid a spate of announcements by regional carriers about travel passes. All Nippon Airways announced on 10 March it would conduct a Travel Pass trial. This was followed by Thai Airways on 13 March and Korean Air on 18 March, both of whom will use the IATA app.
Korean Air will run its Travel Pass trial in May on its KE011 Seoul Incheon-Los Angeles service following an internal trial in April, while ANA and Thai did not provide details of how their trials will be conducted.
Cathay Pacific, a member of the IATA Travel Pass Advisory Group, elected to conduct its trial with another app, CommonPass, which was developed by the Commons Project, The World Economic Forum, and others. Similarly, Qantas trialled CommonPass on a recent repatriation flight from Frankfurt to Darwin.
Cathay's trial occurred on 15 March, but was restricted to pilots and cabin crew, who used CommonPass and test records to create a digital travel pass for its CX880 service to Los Angeles. It conducted a similar trial in October 2020 between Hong Kong and Singapore.
SIA low-cost unit Scoot, meanwhile, made no mention of IATA's Travel Pass or CommonPass, but says it is trialling "new digital solutions for Covid-19 tests and verification at check-in." Its initiative includes a portal for booking pre-departure tests. The results can be obtained through a QR code, and Scoot is trialling a verification solution from a company called Affindi, set up by SIA's majority shareholder, sovereign wealth fund Temasek.
"Through both solutions, we hope our customers can be assured of a more convenient, efficient and reliable experience when they travel with us," says Scoot chief executive Campbell Wilson. "These, among other initiatives by Scoot, not only support the gradual re-opening of borders with robust safeguards in place, but also aim to meet customers' expectations in a post-COVID world."
While it certainly makes sense for airlines to start looking at exactly how technology will aid travellers when the pandemic abates, the Asia-Pacific air transport sector remains locked down. New clusters in Hong Kong mean the Singapore-Hong travel bubble is as distant as ever, although other bubbles are in the offing, such as between Singapore and Australia. Quarantines are still the order of the day for virtually all countries.
Governments, for their part, have not weighed in strongly to support travel passes — let alone a single solution. For the most part they appear to be relying on local vaccine efforts to pull them through the crisis, but several of these efforts are lagging. Widescale vaccination across the region could be some time away.
In regard to travel passes, independent aviation analyst Brendan Sobie is concerned that the airline industry is not taking a concerted approach.
"Ultimately whether travel passes succeed will depend on governments," he says. "The ball is clearly in their court. So far the speed of adoption has been slow and there is a lack of consensus. This unfortunately is all too familiar as a lack of consensus on new travel protocols and Covid testing over the last several months has impeded the resumption of international travel."
He adds that getting governments to commit to one form of digital travel pass is challenging enough, let alone the plethora of pass solutions on offer.