Asiana Airlines has set up a task-force to address regulator concerns about its merger with compatriot Korean Air, as it looks to accelerate the integration process.
The carrier on 27 March says the task-force comprises 42 staff and senior executives, expanding on an existing task-force.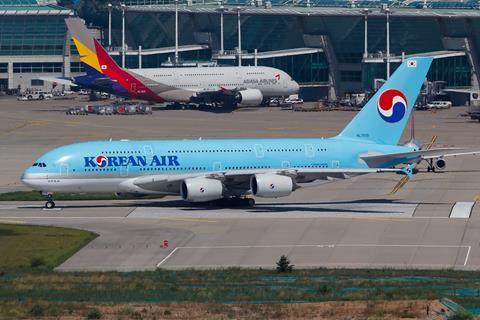 The beefed-up task-force will be led by executives from the legal and strategic planning units, and will be supported by representatives from passenger and cargo operations, finance, as well as public relations divisions.
The team is expected to collect data required by three foreign regulators – the European Union, the USA and Japan – that have yet to grant approval to the takeover.
Asiana notes that the quantity of data requested has "become increasingly larger", obliging it to expand its merger task-force to assist with meeting the requirement. It is also understood the team is separate from similar efforts by Korean Air.
In November 2020, Korean Air announced it would acquire compatriot Asiana in a deal worth about W1.8 trillion ($1.4 billion). While the merger has gotten regulatory approvals in jurisdictions such as Australia, the UK, Singapore, as well as China, the deal can only go through once the three remaining regulators give their approval.
Korean Air had previously indicated it hopes to complete the takeover by this year.