Aircraft lessor and air freight company Atlas Air Worldwide Holdings reported a loss for 2019 as it wrote down parts of its fleet due to lower cargo business during the year.
The net loss was $293.1 million, reflecting a noncash special charge of $503.1 million, the Purchase, New York-based cargo company says. Revenue during 2019 rose slightly to 2.7 billion from 2.6 billion during the previous year.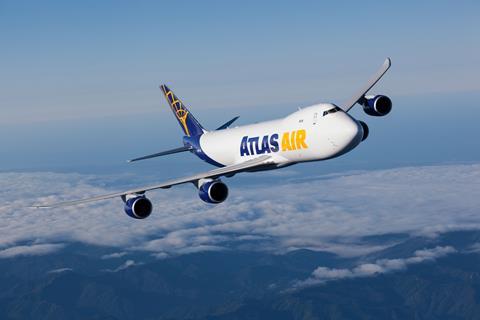 "Reported results in the fourth quarter and full year of 2019 primarily reflected a noncash special charge associated with the write-down of the company's 747-400 freighter fleet due to global airfreight and macroeconomic conditions resulting in lower 747-400 commercial cargo yields and utilization, as well as the disposition of certain nonessential Dry Leasing aircraft and engines," the company says in a statement on 20 February.
That said, the global provider of outsourced aircraft and aviation operating services is expecting 2020 to be better, despite ongoing global issues around trade as well as the short-term coronavirus crisis.
"Looking ahead, we anticipate that our financial performance in 2020 will be an improvement over 2019," says chief executive John Dietrich.
"Our focus remains on express, e-commerce, the US military and faster-growing markets, where the demand for our aircraft and services is solid. As the global supply chain rebalances, we will continue to leverage our significant commercial charter business to capitalize on customer demand," he adds.
The coronavirus, which has decimated air transport across northern Asia since December also had a negative effect on the company's results, but Atlas says it is unable to quantify that at the moment.
"The airfreight industry, like most others, is experiencing the impacts of the unfortunate coronavirus outbreak," Dietrich says. "The effects are yet to be fully determined, and therefore our visibility into the full year ahead is evolving."
"In these unprecedented circumstances, we are playing a key role in our customers' operating networks as they navigate this challenging time," he adds. "We are also currently accommodating special charter demand, and we are well-prepared for the anticipated surge of volumes once manufacturing resumes in full force."