Atlas Air Worldwide Holdings has said chief commercial officer Michael Steen will succeed retiring CEO John Dietrich next month.
The Purchase, New York-based cargo company on 4 May added that chief financial officer Spencer Schwartz will also retire in June.
"Michael's leadership experience, strong track record of innovation and success, and consistent focus on the company's customer-centric mission makes him the ideal candidate to lead Atlas forward in its next phase of growth," Atlas chairman David Siegel says.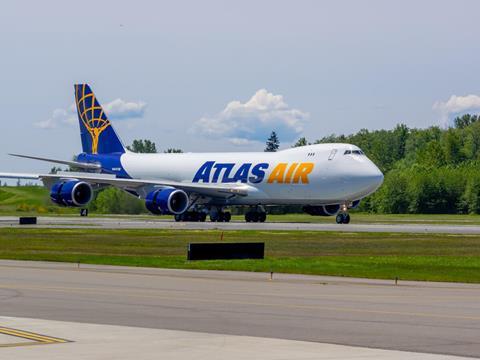 Steen has more than 30 years of experience in aviation and logistics, including 16 years of executive leadership experience at Atlas, the company says. He has been chief commercial officer since 2007, responsible for leading the company's strategy. In addition to his role at Atlas, he currently serves on the Board of Directors at CHC Helicopters.
His successor will be named after Steen moves into the CEO role, set for 15 June.
During Dietrich's time at the helm of the company it "significantly expanded and diversified its service offerings, building from a single-gauge 747 ACMI (aircraft, crew, maintenance, insurance) cargo business to many gauges of aircraft, as well as the expansion into express, eCommerce, passenger service and aircraft leasing businesses", Atlas says.
"I am immensely grateful for my time at Atlas over the last nearly 25 years, and proud of all that our exceptional team has achieved together," Dietrich adds. "Being part of Atlas' growth and global expansion has been incredibly rewarding. I know that the Company is well positioned to further accelerate its growth and will continue to deliver value for all stakeholders."
CFO Schwartz will retire after 15 years with Atlas, also effective on 15 June. Artem Gonopolskiy, senior vice-president, financial planning and analysis, will step into the role as a formal search for a permanent successor commences.