Cargo carrier Atlas Air Worldwide has completed a test flight from Europe to Latin America using sustainable aviation fuel (SAF) sourced from fresh vegetable oil.
The carrier said on 22 December that the flight from Spain's Zaragoza airport to Mexico City, which took place a day earlier, is "believed to be the first transoceanic commercial cargo flight in Spain to include a blend of SAF and Jet A-1 fuel".
Atlas operated a Boeing 747-400F for the mission, with the jumbo using a fuel mixture which included 2.33% SAF.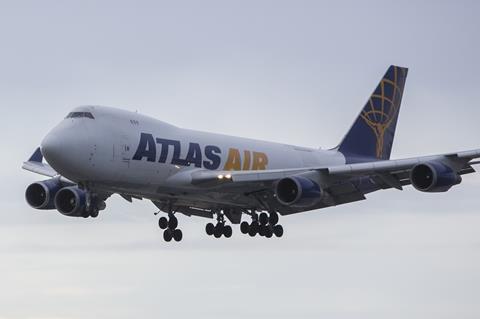 "Innovative sustainable aviation fuel test projects demonstrate our ability to partner with our customers and suppliers to help create a more sustainable future for the air cargo industry and global commerce," says John Dietrich, chief executive of the Purchase, New York-based cargo carrier.
"Through ongoing meaningful partnerships, we will drive wider acceptance and availability of SAF, which will lower costs and have a positive impact on our industry and the environment," he adds.
Sustainable aviation fuel can reduce carbon dioxide (CO2) emissions by up to 80%. More than 40 carriers including Delta Air Lines, Lufthansa and Finnair have begun using the fuel to help shrink their carbon footprint. Aviation accounts for about 2% of greenhouse gas emissions worldwide every year.
Last month, industry trade organisation IATA urged governments to promote the fuel, which is made from renewable sources, as a critical tool to enable the sector to halve its CO2 emissions against 2005 levels by 2050, calling it a "game changer" in the industry.
The association says it envisages SAF's usage rising from around 0.01% of global aviation fuel currently, to 2% in the middle of the decade. By 2050, it hopes SAF could represent 50-85% of aviation fuel consumption, via a "gradual ramp-up" in its adoption.
IATA is targeting a 50% reduction in CO2 emissions against 2005 levels by 2050, a pledge that was reaffirmed at its AGM on 24 November.