Atlas Air Worldwide Holdings, the parent of Atlas Air, says long-term contracts for dedicated freighter capacity are fueling growth and profits, and driving fleet expansion.
The Purchase, New York-based freight and passenger carrier says on 5 May that it expects this demand will only grow, especially from manufacturers and freight forwarders.
"We are off to an excellent start in 2022," John Dietrich, the company's chief executive, says on 5 May. "We delivered strong earnings, despite the pandemic-related operational challenges we continue to navigate."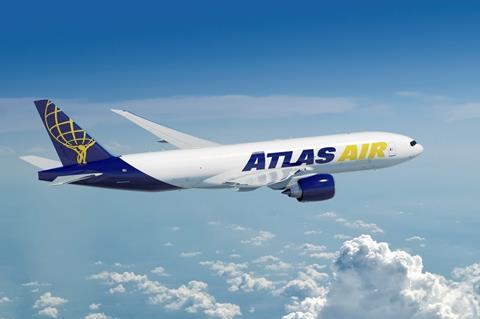 Revenue climbed to $1 billion in the first quarter of 2022, up from $861 million in the same quarter in 2021. The company flew slightly fewer hours during the period: 82,626, down from 88,523 in the first three months of 2021.
Atlas posted a first-quarter profit of $81.5 million, compared with $89.9 million in the same three months of 2021, which included government financial assistance.
"We are expanding and diversifying our customer base, and increasing flying under long-term contracts with attractive rates and guaranteed levels of flying," Dietrich adds.
An "overwhelming majority" of the fleet is flying under these types of long-term contracts, Dietrich says.
During the first quarter, Atlas "extended or entered into… about 10" new contracts, and "at great rates, hours and maturities," says chief financial officer Spencer Schwartz. "We now have nearly two-and-a-half dozen of these long-term charter contracts. The majority of them go through late 2024, early 2025, and some go through the end of 2027."
The contracts include guaranteed monthly minimums and remain consistent throughout their terms.
To meet this demand, the company is adding four new Boeing 747-8 Freighters and four new 777Fs to its fleet.
"All four of our new 747-8Fs have been placed with customers under long-term contracts, and we have strong interest for the new 777Fs as well," Schwartz says.
Atlas said earlier this year that it would purchase five of its existing 747-400Fs at the end of their leases, with one purchased in March and the remainder to be bought between May and December 2022.
"Acquiring these widebody freighters underscores our confidence in the demand for international airfreight capacity, particularly in express, e-commerce and fast-growing global markets," Atlas says.
According to Cirium fleets data, the company has 80 aircraft in its fleet, comprising 37 747s, 26 767s, nine 777s and eight 737 NGs.
Atlas has a substantial cargo business and flies passenger charters, including for the US military. It also leases jets under "dry" (meaning aircraft-only) and ACMI (aircraft, crew, maintenance and insurance) agreements. Atlas operates about 60% of its flights under ACMI deals. Another 24% are under long-term charter arrangements, 6% are US military operations, 6% are flights on South America routes and 4% are ad-hoc flying, Schwartz says.
Dietrich says the carrier has been active in helping deliver humanitarian and military supplies to Ukraine, as that country defends itself against a Russian invasion, now in its third month.
"As the leading provider of airlift to the US military, we have been supporting the US government's significant supply efforts" in Ukraine, Schwartz adds.
The US government has promised billions' of dollars of military aid to the eastern European country since Russia attacked it on 24 February.
Covid-19-related lockdowns in effect in some of China's major cities since late March could impact the company in the second quarter, Schwartz adds. That, however, will likely be temporary until restrictions ease.
"Because of the lockdowns in China, some of the manufacturing has stopped or slowed, and some of the supply chain has stopped or slowed," he says. "It's a short-term Covid blip, and when China opens back up there is going to be a tremendous backlog… and a tremendous demand for air freight."
During the second quarter, Atlas says it plans to fly more than 85,000 block hours and post revenue of $1.1 billion. For the full year, the company expects to exceed 350,000 block hours and post revenue of about $4.6 billion.