Atlas Air Worldwide Holdings continues to profit from higher freight demand during the global health crisis, as long-haul passenger flights - and the belly cargo that is transported in them - are still far from pre-pandemic levels.
The Purchase, New York-based parent company of cargo and charter carriers Polar Air, Atlas Air and Southern Air, on 5 May posted an $89.9 million profit for the first three months of the year, up from $23.4 million during the same period in 2020.
The cargo and charter operator reports quarterly revenue of $861.3 million, up from $643.5 million in the first three months of 2020.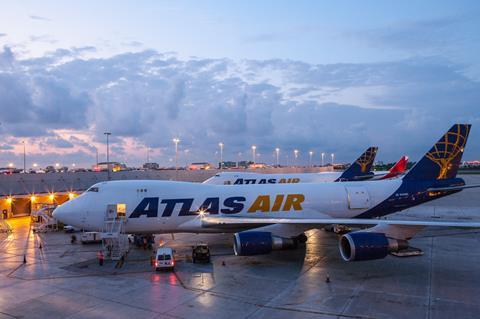 "Our performance was driven by the strength and flexibility of our global business model and our team continuing to capitalise on the current airfreight environment, with demand and yields that are well above typical seasonal levels," says chief executive John Dietrich on the company's quarterly earnings results call with analysts.
The carrier has benefited from an increase in cargo operations worldwide as a result of the global pandemic. Cargo volumes have risen, as people cooped up at home have increasingly turned to e-commerce for their shopping needs.
Atlas flew 88,523 block hours during the three-month period that ended in March, compared to 73,247 in the first quarter of 2020, the carrier says.
"With the strong global demand for airfreight outpacing air cargo supply, we anticipate airfreight demand and yields to remain strong, with capacity on long-haul trade lanes remaining tight," Atlas says. "International passengers flying on widebody aircraft has been slow to recover, and will likely be last to return as countries continue to struggle with Covid-19 and many borders remain closed."
"Recent passenger air traffic has largely been driven by pent-up demand for domestic and regional leisure travel with smaller-gauge aircraft, which is less impactful to international airfreight," the carrier says.
The airline says it expects to fly about 90,000 block hours in the second quarter of the year, and is targeting revenue topping $950 million.
"Our outlook anticipates commercial cargo charter yields in the second quarter of 2021 to remain above typical seasonal levels, but below the historically high yields experienced during the second quarter of 2020."
The second quarter of 2020 was when most passenger airlines had shrunk their networks and stored aircraft due to the precipitous decline in demand as well as travel restrictions designed to mitigate the spread of the highly contagious coronavirus. As a result, aircraft belly cargo fell to an historic low, and passenger airlines began to pivot, reconfiguring some aircraft to carry freight only.
That freight capacity in converted aircraft will decline as more customers return to air travel in the coming months, executives say, but demand for cargo transport will remain high no matter what.
ARBITRATION WITH PILOTS' UNION
Commenting on the nearly five years of conflict the company has had with its pilots' union on a new joint collective bargaining agreement, executives say the arbitration process is now coming to a close and it expects to have a result "in the second half of the year".
Atlas has struggled to reach an agreement with pilots since the merger of Atlas and Southern Air in 2016.
"We are pleased to see negotiations coming to an end," Dietrich says. "The arbitration is complete, and we have specific dates where the post-hearing briefs are due, the arbitrator has committed to us to get to an outcome as soon as reasonably possible."
On 4 May, the International Aviation Professionals (IAP) union that represents Atlas' 2,600 pilots said that the carrier is simply "engaging in … stalling tactics" to avoid a conclusion to the arbitration for a new contract, and thus leading to lost compensation for cockpit crew.
"Delay, delay, delay are the only words Atlas managers know when it comes to getting a contract done with its largest and most important work group," said Robert Kirchner, head of IAP Teamsters Local 2750. "Atlas executives have made the calculated choice to hand over key decisions about the future financial and operational direction of the airline to a third-party arbitrator, washing their hands of any responsibility."
The briefs are due on 7 June, and the arbitrator is scheduled to make a decision within 60 days afterwards.