Atlas Air Worldwide Holdings generated an operating profit of $495 million for the full year 2020 despite the coronavirus pandemic downturn making it the worst year in history for air cargo demand, reversing its fortunes from an operating loss of $461 million in 2019.
The parent company of cargo and charter carriers Polar Air, Atlas Air and Southern Air generated $3.2 billion in operating revenue for the full year 2020, up 16% from $2.7 billion in 2019 when it faced a global air freight slump amid the prospect of a trade war between the USA and China.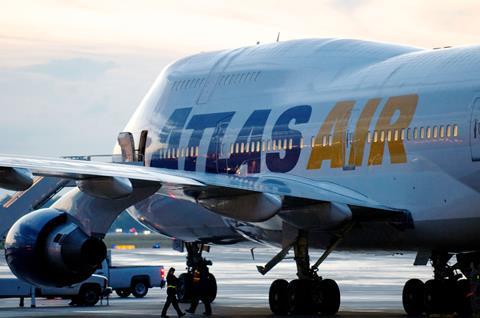 During the fourth quarter the Purchase, New York-based carrier and lessor reported an operating profit of $184 million, rising from a $516 million loss during the fourth quarter of 2019.
Global air freight capacity declined more than air freight demand during 2020 as airlines grounded thousands of passenger aircraft that also carried cargo, insulating Atlas and other owners of freighter aircraft from the worst of the pandemic downturn.
Generating revenue by flying cargo amid the shortage of air freight capacity allowed the carrier and lessor to grow its block hours "to carry historic volumes", Atlas chief executive John Dietrich said on 18 February during an earning call.
"We are also continuing to diversify our customer base and have entered into numerous long-term charter agreements with strategic customers, such as Cainiao, Flexport and HP," Dietrich says. "These agreements will provide reliable and attractive revenue streams for the years ahead."
Charter revenue during the full year 2020 rose by 42% compared with 2019 amid its increased business, while its ACMI revenue declined 3% during the year as flights decreased during the pandemic. Most of its charter flying contracts are scheduled to continue into 2022 or through 2024.
During the fourth quarter Atlas reported $932 million in operating revenue, up 25% from $747 million.
Atlas had $856 million in liquidity and $2.2 billion in debt as of 31 December.
Looking ahead to the first quarter of 2021, Atlas forecasts that its operating revenue will be $820 million
FLYING FOR AMAZON
Operating flights on behalf of Amazon Air remains one of the top financial prospects for the future of Atlas as the e-commerce giant expands both its ground trucking and air freight investments.
Amazon during October and January exercised warrants through its contract with the cargo carrier and purchased a 2.6 million shares of Atlas common stock. Amazon now controls around 9% of Atlas Air Worldwide Holdings.
Another top customer of Atlas, DHL Network Operations, holds a 49% equity interest and a 25% voting interest in Atlas subsidiary Polar Air.
The company has struggled to reach a joint collective bargaining agreement with Atlas and Southern Air pilots since the merger of the two companies in 2016. This ongoing dispute drew criticism from Amazon out of fear that poor labour relations could jeopardise the e-commerce company's air freight contract. Atlas pilots who fly to areas with high coronavirus infection risks are also receiving additional premium pay.
Commenting on the nearly five years of disputes Atlas says "formal negotiations with the pilots' union have recently concluded, and we are moving on to binding interest arbitration on the remaining open issues", which is scheduled to begin in March.
Air cargo rates are likely to remain high throughout 2021 and possibly for several further years as the broader economy recovers faster than passenger air travel. Cash-strapped airlines are slowly returning passenger aircraft to the skies but air freight demand is expected to outpace the air freight capacity deficit, trade group IATA reports.
Cargo demand fell 11% during in 2020 but it was "more or less where it was at the start of the previous year", IATA chief economist Brian Pearce said on 3 February.
While passenger airlines are increasing their cargo operations this does not indicate an endless boom for air freight demand, Adam Pilarski, senior vice-president at aircraft appraisal firm Avitas, has told Cirium. The trends of deglobalisation and international trade disputes that contributed to the air freight slump in 2019 may still be there when global air freight capacity recovers and supply of freighter is no longer a premium, Pilarski has said.
The future for both passenger and air cargo markets remains uncertain, Atlas's Dietrich said during the earnings call, yet he is optimistic that "there is hope with the vaccines" that demand will increase as the pandemic recedes.