US start-up Avelo Airlines recently raised pilot pay rates in an effort to attract qualified crew members and support fleet-expansion plans in 2024.
Avelo currently employs 170 pilots to operate 16 Boeing 737NGs, and plans to continue hiring captains and first officers to support the addition of "at least five" mid-life 737s next year, the company disclosed on 10 October.
The California-headquartered carrier claims its hourly pilot pay rates now exceed those of "all regional carriers and most ultra-low-cost carriers" (ULCCs) in the USA.
"The pay increase we are announcing today, combined with the other exceptional benefits and quality of life Avelo offers, will continue to make Avelo a very attractive destination for pilots," says chief executive Andrew Levy.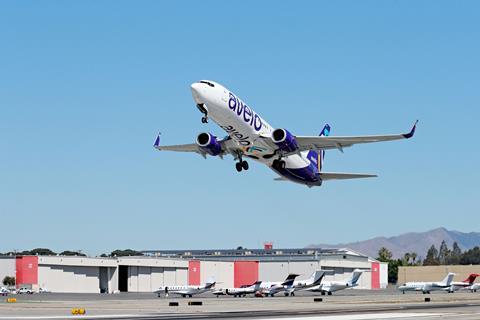 First-year captains with Avelo now make an hourly wage of $240, with rates topping out at $298 hourly after 12 years flying for the company. Hourly rates for first officers are $131 initially and max out at $201.
Avelo did not disclose its pilot pay rates prior to the recent bump – the fifth wage hike the ULCC has given its flight deck crews since launching in April 2021, the company says.
The carrier's pitch to pilots emphasises quality-of-life factors, with chief operating officer Greg Baden claiming that crew members "get home every day on time".
Also in 2024, the discount carrier expects to open a new pilot and flight attendant training centre at its operational base in Orlando, Florida.
North American airlines have been struggling to hire and retain flight deck crews amid a widespread shortage of qualified pilots, which is affecting regional carriers most severely.