Low-cost start-up Avelo Airlines has raised an additional $42 million in a second round of funding, bringing its total capital base to $160 million.
The Houston-based carrier, which launched operations last April, says on 6 January that an investment fund managed by Morgan Stanley Tactical Value (MSTV) invested $30 million in the fresh offering, making it the airline's largest shareholder.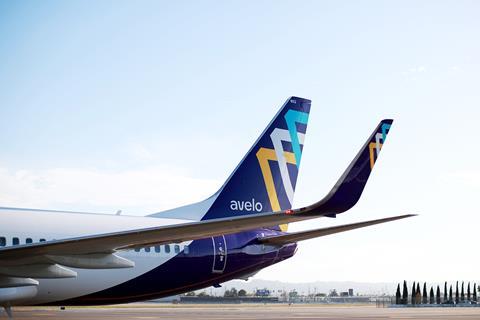 "The incremental capital we've raised is a significant vote of confidence in Avelo's initial momentum and the enormous opportunity ahead of us," says the company's founder and chief executive Andrew Levy. "This additional capital significantly bolsters our already strong balance sheet and enables the acceleration of Avelo's growth trajectory in 2022 and beyond."
Avelo began flights last year, initially from Los Angeles-area Hollywood-Burbank airport. In its start-up phase, the carrier connected Burbank to 11 destinations across the western third of the USA with out-and-back trips.
Avelo chose cities with limited air service, like Medford in Oregon, Tucson in Arizona and Pasco in Washington, but also flies to secondary airports near larger metropolitan areas, like Salt Lake City (Ogden). The carrier's target customers are price-conscious leisure passengers looking for an easy connection from the Los Angeles area without the hassle of dealing with huge airports like Los Angeles International.
In November, Avelo opened an East Coast base at Tweed-New Haven airport, about 60 miles (100km) northeast of New York City. It has been flying from there to popular warm-weather destinations Tampa, Fort Myers, Orlando, West Palm Beach, Sarasota and Fort Lauderdale in Florida.
Avelo also flies several out-and-back routes from Las Vegas to various destinations in California, as well as to Fort Collins, Colorado, according to its route map.
The company says that at the end of 2021 it had 330 employees and operated six Boeing 737NGs. In 2022, Avelo plans to acquire nine further aircraft, increase its workforce by "more than" 450 employees and double its destinations from 19 to "at least" 40 US markets.