Avianca posted a modest profit during the second quarter, benefiting from cost control, smooth operations and increased demand, rather than higher prices, the company says.
The Bogota-based carrier ended the quarter with a profit of $15.4 million. For the first six months of 2023, the company posted a profit of $3.7 million.
Revenue for the second quarter rose to $1.11 billion from $1.02 billion in Q2 2022. Operating costs fell 11% over the same period last year at $989 million.
Revenue during the first six months rose to $2.2 billion versus $1.83 billion in the in first half 2022.
"We continued our strong execution on the business plan in a seasonally challenging quarter," chief executive Adrian Neuhauser said on the company's quarterly analyst call on 4 August. Traditionally, the first two quarters of the year are weaker than the last two.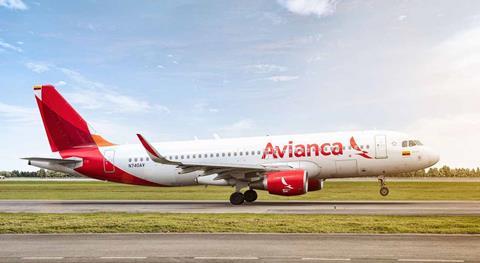 "Avianca completed its narrowbody densification programme in record time which further optimised our cost efficiency, enabled increased capacity allocation and continued to reduce our per-passenger carbon footprint," he adds.
That seat densification was done on the airline's 104 older Airbus narrowbody aircraft. It increased capacity by a fifth, and ensured a standardized product across the fleet, he says.
Avianca lifted capacity as measured by available seat kilometres (ASKs) 22% to 13.3 million during the three months ending 30 June. The airline flew 7.7 million passengers, an increase of 17.7% over the same quarter in 2022.
Cargo revenue and margins are "ahead of business plan" even though "obviously it's a more challenged business than at the peak of last year", he adds.
The company launched eight new routes, and now operates 144 routes to 71 destinations. Its on-time performance was 87.5%, which allowed the airline to drive up aircraft utilization to over 11h per day.
At the end of the second quarter, Avianca had 147 aircraft in its fleet, seven more than at the end of last year.
AVIANCA SECURES VIVA AIR SLOTS
After the demise of Colombian competitor Viva Air earlier this year, and Avianca's thwarted bid to acquire it, the airline has inherited some of the defunct carrier's slots at Bogota's El Dorado International airport for the upcoming winter travel season, as well as "about a dozen" of its leased aircraft, Neuhauser says. It's also hiring ex-Viva employees.
"We received a pretty substantial portion of [the slots], and we intend to fly them," he says.
Chile's LATAM Airlines Group, one of Avianca's toughest competitors in Colombia, also was allocated some of Viva's slots in Bogota and took several Viva aircraft. On 3 August the Chilean carrier said it had increased capacity by 20% in the country, and now has 33% of the domestic Colombian market.
"We are going to operate a network to help Colombians see LATAM as a real alternative to travelling not only within Colombia but also internationally," LATAM's chief executive Roberto Alvo said on that airline's analyst call.
NARROWBODY BUSINESS CLASS
In the face of increased competition across the region, Neuhauser said Avianca is considering re-introducing an enhanced business class product on its narrowbody aircraft, and flying more widebodies within the Americas.
Avianca has kept a full business class, including lie-flat seats, on its widebody aircraft for long-haul flights to Europe. "What we have determined within the Americas - on some of the markets where we are talking about over-5h segments - having just a narrowbody product is uncompetitive," he says, noting the company loses out on an additional cabin as well as belly cargo revenue, he adds.
Therefore Avianca is deploying more widebodies within the Americas, and also looking to make changes to its narrowbody offering on those intra-America routes.
"In the narrowbodies we have three rows of wider, more comfortable seats that we have been selling to-date exclusively as a seat upsell and not as a bundled business class, or premium economy," he says. "What we believe is that that has left room for the competition to sell products that are similar or worse than that."
"So we do intend to begin commercialising the front cabin again as a class in addition to as a seat upgrade, and there will be more to come in the next few months as will define what the service will be," he says.