Avianca Holdings has posted an operating loss of $156 million for the three months ended 30 September.
The parent company of Colombia flag carrier Avianca made a $28 million operating profit in 2019's third quarter.
Avianca made a $284 million net loss in the third quarter of 2020, compared with $40 million net loss during the same period last year.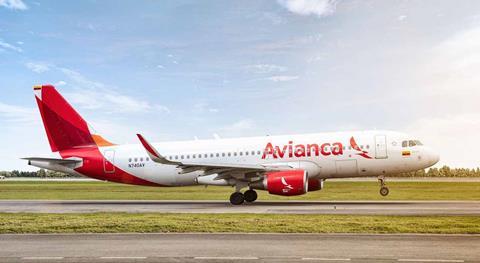 Avianca ceased operations in mid-March after the coronavirus pandemic wiped out demand and South American countries established flight restrictions. The carrier's parent company filed for Chapter 11 bankruptcy protection in the USA on 10 May.
The carrier resumed operations in September. Avianca is operating at 20% of its capacity in November 2019, Cirium schedules data shows. The carrier's capacity in October was down 88% versus last year.
In early October, Avianca received approval from the US Bankruptcy Court for the Southern District of New York to access the $2 billion debtor-in-possession financing for which it had secured funding commitments on 21 September.
The DIP financing consists of a $1.27 billion tranche A senior loan and a $722 million tranche B subordinated loan.
Avianca in August said that the Colombian government had committed to lending the carrier $370 million as part of the DIP financing. Soon afterward a Colombian court ordered the government loan to be suspended until Avianca could prove its ability to repay it.
Avianca states in a 12 November US Securities and Exchange Commission filing that "with support from a large number of third-party institutional investors and existing lenders in its DIP financing, Avianca has the financial flexibility during this stage to support its operations and continue to make progress on its plan of reorganisation without the participation of the Republic of Colombia".