Colombian carrier Avianca could decide this week whether to continue pursuing its planned acquisition of low-cost domestic competitor Viva Air, which stopped flying in February due to financial difficulties.
Avianca has been trying to acquire Viva for the past year, but several decisions by Colombia's Directorate of Air Transport and Aero-Commercial Affairs – known as Aerocivil – have stymied the process. Aerocivil's latest approval, on 25 April, reiterated a preliminary decision from March that set conditions Avianca has called "unfeasible".
Now, Avianca executives say they will decide imminently whether to continue with the acquisition.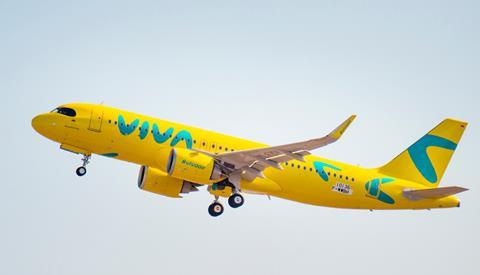 "We will make a decision by the end of the week," Avianca chief executive Adrian Neuhauser says on 10 May during the airline's first-quarter earnings call. Avianca is "not pleased" with what the authorities have presented. He adds that Viva is in a substantially different position than it was when Avianca first expressed interest in it.
"The company we would integrate is not the company we were looking to" acquire, he says.
Strings attached by Aerocivil include refunding customers who had bought tickets on cancelled Viva flights, and allowing those who have tickets pending to fly. The carrier must also return some take-off and landing slots at Bogota and maintain Viva's low-cost options.
Such conditions prevent "a realistic transaction for the integration and rescue of Viva", Avianca said last month.
The process to combine the two companies began in April 2022, when owners of Avianca and Viva struck a deal to form a joint holding company, saying such an arrangement would improve the carriers' financial stability following the Covid-19 industry crisis. They planned for Viva's Peruvian and Colombian operations to remain independent.
Four months later, Avianca requested accelerated approval by Colombia's civil aviation regulator, citing concern about Viva's ability to compete in the face of increased financial pressure. In November, Aerocivil blocked the deal on grounds it would be a "setback" to competition in the region.
But in January the regulator annulled its earlier rejection, admitting "substantial irregularity in the processing of the administrative action in the first instance". In March, Aerocivil approved the transaction, subject to numerous conditions.
Viva ceased operations on 27 February, blaming Aerocivil's delays.
Several other carriers, including LATAM Airlines Group and Chilean ultra-low-cost carrier JetSmart, also earlier this year expressed interest in acquiring Viva.