Aviation leaders have asked the US government to extend a national mask mandate aboard aircraft and in airports, and to develop a robust plan to reopen the country to foreign visitors.
During a hearing of the US Senate's Aviation Safety, Operations, and Innovation Subcommittee on 21 April, industry representatives said that while financial relief from the federal government saved thousands of jobs at the height of the crisis last year, the government must shift to ensure tourist dollars again flow into the USA, and to secure those jobs for the future.
Reaching those goals will require inspiring confidence in air travel, after many potential customers spent the past year at home amid travel restrictions.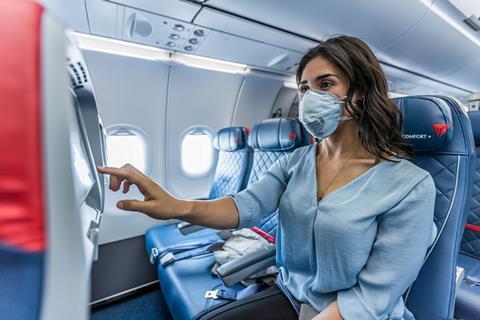 While most airlines have required guests wear face coverings onboard aircraft since early in the crisis, the US government mandated mask wearing in February. That mandate is set to expire on 11 May, and aviation officials have called on the government to extend it.
Sara Nelson, president of flight attendant union Association of Flight Attendants-CWA, calls the mask mandate "critically important". She says airlines should hold off on re-introducing food and beverage service until more people are vaccinated and infection numbers decline.
Lobby group Airlines for America (A4A), which represents 10 of the biggest airlines in the USA, agrees.
"We would support extending the federal mask mandate, please," Nicholas Calio, the trade organisation's chief executive tells lawmakers at the hearing.
Calio also repeated earlier requests that the government develop a "roadmap to recovery", which would outline steps that could lead to rescinding travel restrictions for foreign visitors – allowing them to again freely enter the country.
Last month, A4A joined more than 20 aviation and tourist industry lobby groups in calling on the US government to come up with a plan to relax international entry restrictions prior to the usually busy summer travel season.
It is imperative that the USA open to international travel in "rational, methodical and transparent way", he says.
"If we don't start doing this and take a leadership role, we are going to fall behind and it will become a competitive disadvantage" for US airlines and tourism operations, he adds.
On the topic of so-called vaccine passports or digital health credentials, aviation leaders agree such a programme should be voluntary and temporary.
"We support a digital health passport that shows I have been vaccinated," Calio says. "It needs to be a voluntary programme and time-limited but for someone who travels a lot as I do, it could be a great convenience."
Nelson adds, "If not mandatory, it could be a tool that could be helpful to regain confidence in air travel, it must be temporary, focused on Covid-19 and voluntary."
On 6 April the administration of President Joe Biden said it would not require digital health documents for travel.
The idea of a health document to prove vaccination and testing status, and thus perhaps speed widespread re-opening of travel was floated by some actors in the aviation and travel industry. While there is broad support for the idea in the industry, important privacy questions about the security of individuals' health information remain.