Despite an industry slump that has seen mass pilot lay-offs, the global civil aviation industry will still require an estimated 27,000 new pilots by the end of 2021, or 264,000 over the coming decade.
That forecast comes from Canadian training and simulator provider CAE, which on 9 November released its latest prediction covering the demand and availability of pilots through 2029.
This year, the number of active pilots has declined year on year by around 87,000 to about 300,000, but will bump up to an estimated 374,000 by the end of 2021, says CAE.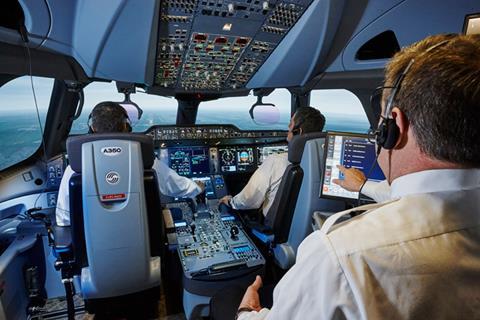 Though still less than 2019 levels, by the end of next year "age-based retirements and attrition" will leave the industry short 27,000 flightcrew, says the study.
That figure will balloon over 10 years to a requirement for more than 264,000 new pilots, CAE says.
"Despite the short-term decline in the number of active pilots due to the impact of Covid-19, the civil aviation industry is expected to require more than 260,000 new pilots over the next decade," CAE says.
"Fundamental factors influencing pilot demand prior to the Covid-19 outbreak remain unchanged. Age-based retirement and fleet growth were, and are expected to remain, the main drivers of pilot demand."
CAE predicts the civil aviation industry will require a total of 484,000 pilots in 2029: an estimated 426,000 for airlines and another 58,000 business jet crews.
Of those, 167,000 pilots will be needed to replace those who are retiring or otherwise leaving the workforce, while the remainder will be needed to meet industry expansion, CAE predicts.
"Thousands of pilots have been furloughed in recent months. Many of them have pivoted to other professions and might not want to resume their pilot careers," says the report.
The Asia-Pacific region will require the most new pilots – about 91,000 over 10 years, equating to about one-third of total demand. North America will need a combined 65,000 new pilots; Europe 42,000; the Middle East 25,000; South and Central America 16,000; and Africa 4,000, CAE projects.
Story updated on 8 January 2021 to clarify that CAE expects 27,000 new pilots will be required by the end of 2021.