Brazilian carrier Azul is preparing a host of scenerios to manage the coronavirus crisis, while minimising cash burn and maintaining high liquidity levels.
On the airline's quarterly analyst call on 14 May, chairman David Neeleman was optimistic and upbeat that Brazil's biggest airline will not suffer long-term ill-effects when global air travel rebounds, thanks to the flexible way the airline has responded to the crisis.
"We're building the business back up. We have an unbelievably great franchise," he says. "It sucks for all of us right now, but we are going to come back."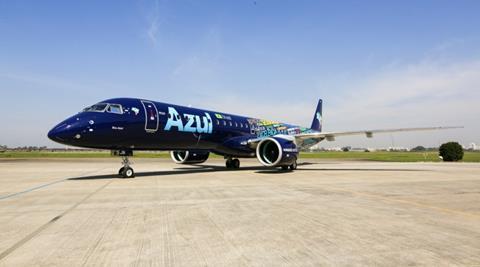 On 13 May, the airline announced it deferred 59 Embraer 195-E2 jet deliveries from the 2020-2023 period to "2024 and beyond" in order to preserve liquidity. The deferments occurred without penalty, Neeleman says. "It's in Embraer's long-term interest to have a strong Azul."
The Sao Paolo-based carrier was launch customer for Embraer's new variant, and has already taken delivery of five E195-E2s.
Neeleman adds that the company is speaking to Airbus about orders with the Toulouse-based manufacturer. "We are close to an agreement with Airbus," he says. Azul will "not take any aircraft that we don't need".
According to Cirium fleets data, Azul has orders for 28 A320neos, 10 A321neos and one A330-900.
Azul generated revenue of R2.8 billion ($470 million) in the first quarter, up 10.3% from the same period a year ago. It has R6.7 billion of liquidity to fall back on in the coming months and expects daily cash burn to fall to R3-4 billion by May, chief executive John Rodgerson says.
About 78% of the company's workers, or about 10,500 employees, have taken voluntary unpaid leave, executives add, leading to an expected 50% salary reduction for the second quarter. Operating costs are expected to be down 55% from the same quarter in 2019.
The airline has been flexible in rightsizing its network as demand fluctuated in past weeks. Currently, it operates a maximum of 118 flights daily to 38 destinations, well off the pre-crisis numbers of 950 flights to 116 cities, but higher than the slowest date in April, when it operated just 70 flights to 25 cities.
At the end of March, before it became obvious how drastically air service across the vast South American country would be affected by the pandemic, the Brazilian government developed an essential air services plan for the country. Azul and competitors Gol and LATAM guaranteed all 27 state capitals and 19 other large cities would remain accessible by air during the crisis.
They committed to operating 1,241 instead of the scheduled 14,871 weekly flights, representing capacity reduction of nearly 92%, while the number of airports served by the three carriers fell more than half, from 106 to 46.
"We are well off the bottoms, which came in the second week of April, and we have seen a bounce back from that which is very good," chief revenue officer Abhi Manoj Shah says. He adds that fleet flexibility has helped minimise cash burn.
"Today we are flying Caravans in markets we used to fly ATRs, ATRs where we used to fly Embraers, and Embraers where we were using A320s," he adds.
That said, demand on some routes has increased such that Azul has transitioned some Cessna Caravan routes back to A321s. "We are launching new routes every week, and removing stuff that doesn't work."
The Caravans belong to TwoFlex, also known as Two Taxi Aéreo, a regional carrier which Azul acquired in January. Azul paid R123 million for the airline, and the transaction closed on 14 May. Before the crisis, TwoFlex operated 17 Caravans and provided regular passenger and cargo service to 39 Brazilian destinations.
Azul expects capacity will be down 75-85% year-on-year for the current quarter, ending in June. At the moment, the airline hopes by December to be flying about 40% of its pre-crisis capacity – 400 of a previous 1,000 daily flights.
Revenue from Azul's cargo business rose almost 39% during the first quarter, Rodgerson says, adding that the airline sees cargo potential.
Azul has transitioned two A320s from passenger- to cargo-only operations, chief revenue officer Shah adds. "Nine aircraft are now dedicated to the cargo team, so they are making hay while the sun shines."