Brazil's Azul sees "robust, sustained revenue performance" for the rest of the year with passengers travelling in greater numbers as the global Covid-19 pandemic is largely in the rear-view mirror.
The Sao Paulo-based airline said on 15 May that its operating revenue reached "an all-time record" of R$4.48 billion ($910 million) during the first three months of 2023, as travel demand remained high. That is about 40% higher than in the first quarter of 2022.
Still, expenses weighed on the company, coming in at R$4.02 billion – including R$1.67 billion for fuel, up 41% from last year. All told, including financial expenses, the company posted a first-quarter loss of R$322 million.
"Demand in the international markets continues very strong, highlighted by our new Paris service, which debuted on 26 April," chief executive John Rodgerson says. "Together with our recently doubled presence at [Sao Paulo's] Congonhas airport, our product offering has never been more relevant, allowing us to showcase to new customers our superior product, broad network, award-winning loyalty program and unique travel and logistics offerings."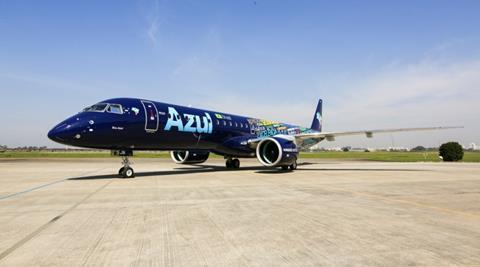 Azul currently has 158 destinations in its network, the company says.
Capacity as measured in available seat kilometres (ASKs) rose 19% to 10.8 billion, the company says. During the full year of 2023, the carrier expects to increase capacity by about 14% compared to 2022.
Azul sees the domestic market growing at about 6%, with chief revenue officer Abhi Shah saying that growth will be "very disciplined overall". Internationally, the company expects to maintain the network it is currently flying. "I don't see any major new markets or destinations for the rest of the year," Shah says. The airline is relying on partners like United Airlines and JetBlue Airways in North America and TAP Portugal in Europe to help increase its footprint those regions.
"Together with United and JetBlue, we have been slowly expanding our network into the United Sates," Shah says. "Via our gateways in Orlando and Fort Lauderdale, we can connect to 27 cities in the US and eight in the Caribbean."
"In addition, we connect to 24 European cities via our partnership with TAP in Lisbon," he adds.
With fuel prices expected to fall about 29% in the second half of the year, Rodgerson adds, the airline "could not be more excited with the trends we are seeing in the demand environment".
"This, combined with our efficient cost structure, a disciplined capacity environment and our increased presence in Congonhas, lead us to be very optimistic for the rest of the year and beyond," he says.
The company's cargo unit, which has a one-third share of the Brazilian logistics market, achieved R$309 million in revenue, slightly lower than the same quarter of last year, as the company "redeployed widebody aircraft from dedicated cargo operations to passenger service to take advantage of the faster than expected recovery in international travel".
"Domestic cargo revenue grew 9.7% year-on-year due to strong domestic demand for our logistics solutions and our exclusive network," Azul says.
The airline ended the quarter with 182 aircraft in its fleet, up from 166 at the end of the first quarter of 2022, and up from 177 at the end of the year.