Brazil's Azul achieved record revenue during the fourth quarter of 2021 as it continued to build out its domestic passenger and cargo operations.
The Sao Paolo-based airline on 24 February reported revenue of R3.7 billion ($720 million) in the final three months of the year, compared to R1.8 billion in the same quarter in 2020. The Q4 2021 figure was 14.7% higher than revenue in the fourth quarter of pre-pandemic 2019, and a company record.
For the full year, revenue topped R8.8 billion, up from R5.1 billion in 2020.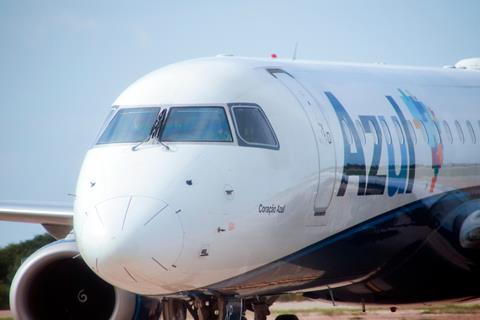 "During the quarter, we continued to focus on our domestic network. We are now flying to almost 150 destinations, a remarkable addition of more than 30 destinations compared to 2019," says chief executive John Rodgerson. "Over time, the growth from these new destinations will contribute significant incremental demand to our network."
"Our strong fourth-quarter results give us confidence in our business model," he adds.
Azul posted a fourth-quarter loss of R946 million, primarily owing to a financial expense that included interest accrual, lease liabilities and an unfavourable exchange rate. Its earnings before interest, tax, depreciation and amortisation (EBITDA) was R1.03 billion, 16% below the R1.23 billion it reported in the fourth quarter of 2019.
Leisure travel has completely returned, executives say, while corporate travel is still below pre-pandemic levels. The end-of-year wave of the coronavirus' Omicron variant caused a higher-than-normal level of employee absences and put a damper on growth, but it has rebounded.
"Our corporate recovery was around 70% of 2019 levels, which is good given that 2019 had a very high base at the end of the year," Azul's chief revenue officer Abhi Shah says. "Our January was messy because of the staffing issues with Omicron but the last two weeks as we are seeing corporate revenue recovery again close to the 70% number."
While it's been expanding its domestic network, Azul is taking a conservative approach to restoring international flights. It expects to have about 45-50% of its network restored in the foreseeable future.
"We do have options when it comes to our long-haul network and we will only bring back capacity when margins come to where we see them domestically," Shah says.
BRAZIL'S FEDEX
The company's freight segment continues to be a highlight, and a "valuable driver of profitability", says Rodgerson. Full-year 2021 revenue from freight operations reached R1.1 billion, up 128% from 2019 levels.
"Our logistics business continued its outstanding performance with a record year, surpassing the ambitious target to double revenue for the full year in 2021 compared to 2019," Rodgerson says. "Azul Cargo now serves more than 4,500 cities and communities across the country, 2,000 of which we can deliver to in 48 hours or less."
"We want to be the FedEx of Brazil," adds Shah. The company now has a network of 300 representatives around the country in order to give Azul "access to capacity we need for pick ups and deliveries in all geographies".
"We definitely want to keep building out logistics capabilities," he adds.
In February, the company introduced its first E195-E1 freighter, which was developed in-house, and has already been certified by Brazilian aviation regulator ANAC.
"The addition of this fleet type to Azul Cargo's operation adds unmatched flexibility and cost effectiveness to its logistics operation," the airline said at the time. "This innovation expands the cargo capacity of the Embraer E195 from seven to 15 tons, significantly leveraging its low trip cost to help Azul Cargo transform logistics in Brazil."
Shah says the company has four E1 aircraft converted to freighter configurations; three are flying and one will enter service shortly.
"Our goal is to keep adding those to the fleet," he adds. "We are entering new markets [and] flying to cities that we don't even fly with our passenger network. I'd be disappointed if this fleet doesn't grow – it has important advantages in terms of trip costs, and really good flexibility in terms of infrastructure to access secondary cities."
"We want to grow that fleet and we are on the road showing it off," Shah says.