European airline group IAG hopes to see a "decent" summer season from July onwards, following a slower-than-expected recovery in demand during the first half of this year.
Speaking during the British Airways and Iberia parent's first-quarter results briefing on 7 May, IAG chief executive Luis Gallego cited Covid-19 vaccination rates in the UK and falling infection levels in key markets as reasons for optimism regarding air travel demand from the third quarter onwards.
Until then, IAG's capacity during the current quarter will be only marginally higher than that of the first three months of 2021, at around 25% of pre-crisis levels, albeit increasing "quite strongly" from the end of May, Gallego suggests.
"The rate at which [travel] corridors are opening is slower than we hoped," he says of the first half of this year.
IAG's near-term recovery expectations are focused on BA's home market, where information is shortly expected regarding the classification of destinations under a 'traffic light' system for international travel.
"The UK government should reap the benefits of its success in managing the pandemic by opening the country to meaningful air travel from 17 May," Gallego states in relation to the proposed date for the restart of international services to and from England.
At the same time, he says there are reasons to believe that IAG's key Spanish market will see further recovery momentum going into the second half of the year, following the European Commission's recent announcement of a framework to restart non-essential international travel.
Referring to the transatlantic market that is particularly crucial to BA and Aer Lingus, Gallego adds that IAG hopes "the USA is recognised by the UK as a 'green' country, which the Covid vaccination data supports".
In order for that market to return, Gallego also calls on the US government to rescind a ban on travellers from Europe.
Should those conditions be met, he expresses some confidence that Europe-US travel will begin to recover from June onwards.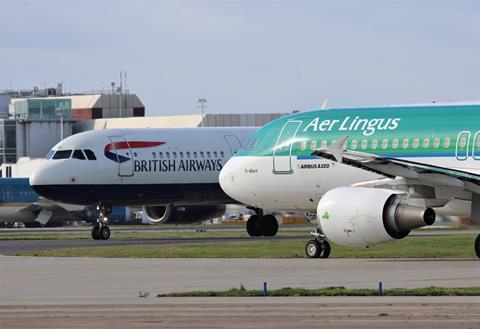 Indeed, amid the uncertainty around the recovery path, IAG chief financial officer Steve Gunning still outlined what could be a "decent summer season from July onwards", explaining that the group is positioned to fly up to 70-75% of 2019 capacity in the third quarter and 80-85% in the final three months of 2020.
Iberia and Vueling could be ahead of those figures, Gunning notes, and the latter airline is positioned to return to 100% of pre-crisis levels in the fourth quarter, should the market support it.
Gunning and Gallego both stress, however, that such figures are not forecasts – only an assessment of the highest achievable capacity levels.
Much still depends on many factors outside IAG's control, with Gallego calling for action from more governments to open up travel corridors "without restrictions between countries with successful vaccination rollouts and effective testing". To further facilitate the return of international travel, he also wants simplified and "proportionate" Covid-19 testing procedures, appropriate staffing levels at borders, and "digital passes" for testing and vaccination documentation.
As it looked forward to the recovery, IAG outlined mixed fortunes for the group's airlines during the first quarter of this year.
Aer Lingus was the "most challenged" in terms of its financial performance, says Gunning, because Ireland "has a uniquely stringent set of travel restrictions". The carrier's total revenue was down 91% year on year in the first quarter.
BA's passenger traffic was also severely depressed during the first quarter, with total first-quarter revenue down 83%, but it "benefited significantly" from cargo flying. Income from cargo outpaced passenger revenue and allowed the Oneworld operator to maintain more of its long-haul network, Gallego says.
Iberia saw "the best financial performance in the quarter of any of our airlines", Gunning states, as it tapped significant domestic demand and benefited from looser travel restrictions in its key Latin America markets. Maintenance and handling also performed well for the Spanish operator, whose total revenue was down 61% year-on-year.
Low-cost carrier Vueling always makes a loss during the first quarter, Gunning explains, because of the seasonal nature of its business, with first-quarter revenue down 85% versus the same period in 2020.
Overall, IAG reported an operating loss before exceptional items of €1.14 billion ($1.38 billion) for the January-March quarter, compared with a loss of €535 million for the same period of 2020, when the first effects of the coronavirus crisis were felt. It stresses that its improved liquidity position means it can have confidence about navigating "the foreseeable future".