British Airways is to suspend short-haul operations at London Gatwick and pursue "alternative uses" for the relevant slots after disclosing its plans for a new subsidiary have failed to secure support from its pilots.
The Oneworld carrier stopped operating short-haul flights out of Gatwick when the pandemic hit 18 months ago. Last month the airline entered talks with its unions over plans to create a new subsidiary for its future short-haul operations out of Gatwick, to enable it to better compete with low-cost rivals.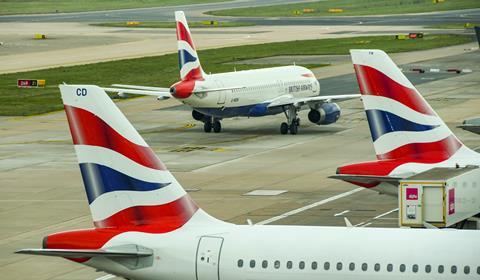 But in a statement today BA says it is "disappointed" that its plans for the new short-haul subsidiary have not received support from pilots' union BALPA.
FlightGlobal has asked BALPA for comment.
"After many years of losing money on European flights from the airport, we were clear that coming out of the pandemic, we needed a plan to make Gatwick profitable and competitive," the airline says.
"With regret, we will now suspend our short-haul operations at Gatwick, with the exception of a small number of domestic services connecting to our long-haul operation, and will pursue alternative uses for the London Gatwick short-haul slots."
Speaking earlier this month at a BA event at Heathrow, chief executive Sean Doyle told reporters: "It's very important, if we do go back into Gatwick short-haul… we are honest about what it will take to compete."
Low-cost carriers dominate short-haul operations from Gatwick, including EasyJet which is the largest operator from the south London airport.