Bermudair has delayed its inaugural flights to the USA due to Hurricane Franklin and now plans to launch 1 September.
The new "business-class short-haul airline" had initially planned to launch flights 31 August but cancelled its first day of flights "in the wake of weather conditions associated with Hurricane Franklin", according to Skyport, the management company overseeing Bermuda's LF Wade International airport.
Bermudair had planned to fly from Bermuda to Boston and Westchester County airport near New York City.
"Guests are being rebooked accordingly," Bermudair says.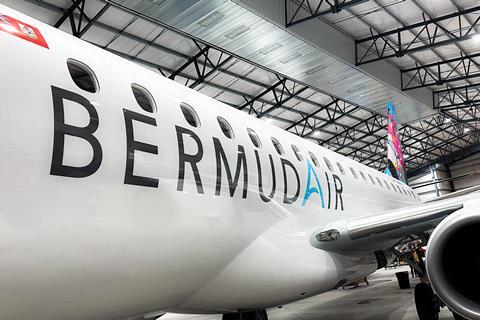 The National Oceanic and Atmospheric Administration (NOAA) said on 31 August that Franklin's maximum sustained winds were 87kt (161km/h) and that the storm was some 230nm (426km) northeast of Bermuda.
Franklin "continues moving away from Bermuda" and is forecast to become "extratropical in a couple of days", the NOAA adds, referring to a tropical storm system that meets a cold front.
Bermudair's flights to Boston and New York will initially be operated once daily, six days weekly, with plans to step up frequencies to twice daily, six days weekly on 15 September.
The regional carrier also plans to launch flights from Bermuda to Florida's Fort Lauderdale-Hollywood International airport on 22 September.
Bermudair will operate a pair of mid-life, 88-seat Embraer 175s that will eventually be modified to have 30 all-premium seats in 1-and-1 configurations designed to give passengers a sense of privacy, the carrier says.

The cabin configuration change is anticipated to be completed by 1 November but could be held up by supply chain-related delays. One aircraft will remain in service as the other's cabin is retrofitted.
Until then, the carrier is "selling 44 of the available 88 seats on our aircraft to maintain a premium, spacious experience", it says.
Chief executive Adam Scott told FlightGlobal in July that he hopes to help the island's air service rebound from the Covid-19 pandemic and overcome being "a peripheral place for mainline carriers".
Scott believes the island's strong business community and high-end leisure market will support "an elevated product more akin to a private jet than a traditional mainline carrier… At the same time, we have got to make sure that we got [the right] number of seats and, of course, underlying economics that work."