Several weeks into operating flights to the East Coast of the USA, BermudAir no longer plans to configure its cabins exclusively with business-class seats.
The Bermuda-based regional airline disclosed on 10 October it is now targeting dual-class cabins with a mix of "aisle class" and economy seating for its pair of Embraer 175s.
"The strategic shift in service enables the airline to honour its commitment to Bermuda, while also responding to evolving market dynamics and preliminary guest feedback from its phased launch," the carrier says. "The dual-class cabin will also allow guests to choose a travel experience that aligns with their individual needs and preferences."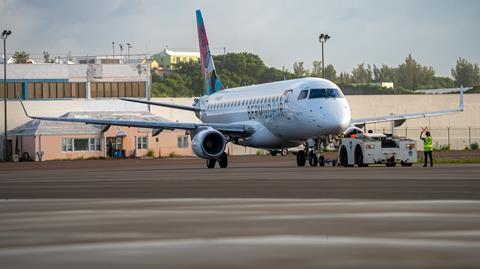 The carrier had previously planned to retrofit both its 88-seat E-Jets with 30 single-suite "pods" by the beginning of November.
As an interim strategy to give customers more space, BermudAir had been selling half of its available seats since launching on 1 September.
"After nearly 170 successful flights, it's clear that there is strong demand for direct, short-haul and premium flights between Bermuda and the East Coast," says chief executive Adam Scott. "We've had overwhelmingly positive feedback from our guests… but guests also desire more options and flexibility.
"BermudAir is uniquely positioned to fill that need with our dual-class cabin," he adds.
Work to retrofit BermudAir's cabins will be completed in the fourth quarter, but the precise seating configuration and total number of seats have yet to be finalised, the carrier tells FlightGlobal.
Meanwhile, the start-up will continue flying from Bermuda to Boston, Fort Lauderdale, Florida and Westchester County outside of New York. Both premium and economy seats are now on sale.