Romania's environment minister has called a decision by Blue Air to suspend flights "unjustified" after blocking the carrier's accounts in a row about the recovery of a 28.7 million lei ($5.9 million) debt.
Short-haul operator Blue Air has suspended flights from Romanian airports until 12 September saying the "unforeseen situation" for the ministry to sieze its accounts means it is unable to pay current costs necessary for operations.
Blue Air operates a network predominantly connecting Romania with points in Europe, as well as a small number of Italian domestic routes from Turin. The airline says its Italian domestic flights will continue to operate as normal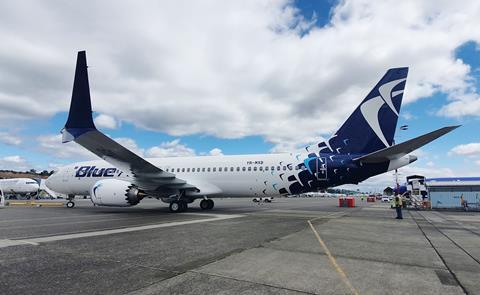 In a statement Blue Air says the freezing comes at the same time as statements from the country's national authority for consumer protection (ANPC), which it claims has led to a "significant dismantling of passenger confidence" in Blue Air. This, it says, has caused a reduction in ticket sales, increased pressure for pre-payment from suppliers and the blocking of talks with potential new investors.
"The irresponsible statements and actions of a representative of the Romanian State, as well as the untimely decision to freeze all the company's bank accounts, have put Blue Air in the undesirable situation of having to reduce its operations for the immediate future, to facilitate the completion of the impact analysis from investors and the obtaining of the necessary authorizations for discussions with investors," the airline says.
In a statement Romania's environment minister Barna Tanzos confirm has Romania has blocked the airline's accounts after beginning enforcement proceedings over the debt relating to the country's environment fund administration (AFM).
Tanczos has called on Blue Air to resume flights immediately and to address the debt repayment.
"This blocking of accounts in no way justifies the immediate suspension of all flights," he says. "I request that Blue Air immediately address the AFM and legally resolve this dispute and request that they immediately resume all flights and honour their obligations to passengers."
Article updated 7 September to clarify status of Italian domestic flights