Brazil's Azul had a record-breaking quarterly revenue of R$4.3 billion ($890 million), up 8.8% against the R$3.9 billion it reported in the same quarter last year, and 63% over the same quarter in pre-pandemic 2019 as passenger demand, including corporate travel, continues to bounce back.
The Sao Paulo-based company said on 10 August that its net profit was R$498 million but adjusted for exchange rates as well as unrealised derivative results and other financial expenses it posted a quarterly loss of R$567 million, 21% smaller than last year.
While passenger revenue rose 11% during the three-month period that ended on 30 June, cargo declined about 12%, as the company "redeployed widebody aircraft from dedicated cargo operations to passenger service to take advantage of the faster than expected recovery in international travel", says chief executive John Rodgerson.
That said, the airline's domestic logistics business "keeps growing in the mid-to-high single digits", he adds. Domestic cargo grew 6.2% year-on-year due to strong demand for logistics within Brazil, Azul says.
"We still continue to believe that Azul Cargo will transform logistics in Brazil," he adds. Though that segment is still not growing as fast as last year, it is still "two-and-a-half times bigger than 2019".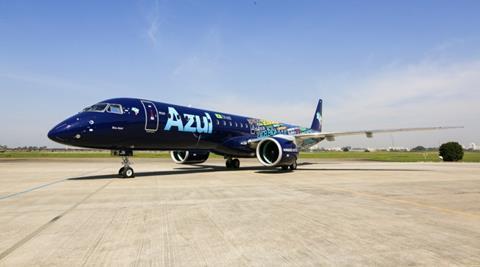 Like its peers, Azul is benefitting from demand for international travel. Both USA and European markets are doing well, with the airline profiting from partnerships with JetBlue, United Airlines and TAP Portugal, which "allows us to feed lots and lots of cities beyond our gateways", says chief revenue officer Abhi Manoj Shah.
"We are fully recovered and larger, and we are happy with the results of the international network," he adds.
The more-lucrative corporate travel segment has shown some recent strength, which should bode well for the second half of the year – traditionally the stronger half for travel in Latin America.
"We feel really good about the trends that we are seeing coming out of Q2 into second half seasonality," says Shah.
For example, during two of the last four weeks, corporate volume in the domestic market has been 100% of that achieved in 2019, prior to the global Covid-19 pandemic.
Costs also fell during the second quarter, driven by a 25% reduction in jet fuel prices and a reduction in fuel burn. That was partially offset by an 8.4% increase in capacity.
"Looking ahead, we are excited for the upcoming months as we enter the strongest seasonal period of the year with a very constructive demand, pricing and capacity environment," Rodgerson adds. "We expect to leverage our strengthened balance sheet, liquidity position, and lower cost of capital to further enhance our sustainable growth."
'STRETCHING THE DAY'
As for aircraft utilisation, the company is "stretching its day", with a current average of 10h per day during the first half of the year, up from 8.9h in the same period in 2022.
"We are making our way back to pre-pandemic utilisations," Shah adds. "We have sequential improvements as we redesign the network and as we take advantage of all the pockets of opportunity out there."
"Fuel is still higher than pre-pandemic, as we stretch the day out, we must be careful we don't lose the quality of the revenue. That's the balance that we are striking."
Azul ended the quarter with 181 aircraft in its passenger operating fleet, up from 167 a year earlier, and about flat from the 182 the company reported at the end of the first quarter of 2023.
The carrier is expecting to take several more-efficient Embraer E2 series aircraft into its fleet at the end of this year and into 2024, to replace the older-model E1 aircraft. Azul was the type's launch customer in 2019 and the airline currently operates 17 E2 airframes, up from nine at this time last year.
"Every time we take an E2, it's profitable," says Rodgerson. "The next couple of years are the E2 years for Azul, and you will see an improvement."
"We still fly more E1 flights a day than E2 flights, so that's significant upside going forward," he adds.