Brazil's Azul has signed a commercial deal with German electric aviation start-up Lilium worth up to $1 billion.
Under a strategic partnership with the air taxi developer, Azul could acquire 220 of Lilium's in-development electric vertical take-off and landing (eVTOL) vehicles, which are planned to enter commercial operation by 2025, the Sao Paulo-based airline says on 2 August.
The companies hope to build an exclusive eVTOL network serving the vast Latin American country.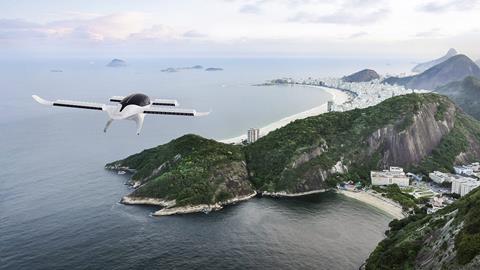 "Lilium plans to work with Azul to radically transform high-speed regional transportation in a country which sees close to 100 million domestic air passengers a year and is currently one of the world's leading civilian helicopter and business aviation markets," the German air-taxi company says. "Combining Azul's deep knowledge of the Brazilian market with Lilium's unique eVTOL aircraft platform, the companies plan to negotiate the terms for the establishment of a co-branded network in Brazil."
Azul chief executive John Rodgerson says the airline wants to create a new market in the Latin American country in the coming years.
"Our brand presence, our unique route network and our powerful loyalty programme give us the tools to create the markets and demand for the Lilium Jet network in Brazil," he says.
"Since Azul's founding 13 years ago, the Brazilian aviation market has doubled, with Azul capturing almost 60% of the growth. We know how to create and grow new markets, and once again we see huge market opportunity by bringing the Lilium Jet to Brazil," adds Azul founder David Neeleman.
In May, Lilium said in documents filed as part of its US stock market listing that it aims to sell its seven-seat Lilium Jet for an initial unit cost of $2.5 million. It forecasted that a single jet would generate a profit of $10 million over its eight-year lifetime, based on annual revenue of $5 million and 25% margin.
To achieve that return, each aircraft would need to cover "approximately 1,500 miles per day, or approximately 20 to 25 flights, with on average 4.5 out of 6 passenger seats filled, generating approximately $15,000 of revenue per day", the company said.
Azul reports second quarter results on 12 August.