Brazil's Gol generated record revenue in the third quarter of 2023 as both leisure and corporate travel demand continued to strengthen.
The Sao Paulo-based airline said on 6 November that its third-quarter revenue rose to R4.7 billion ($960 million), up from R4 billion during the same quarter last year. The third-quarter revenue figure was also 26% more than in the third quarter of pre-pandemic 2019.
The rise was driven by a "balanced combination of increased capacity and higher yields as well as the strengthening of leisure demand for air travel in Brazil and a gradual recovery in the corporate market, which saw a 17.4% increase compared to the previous quarter", the company says.
Gol's operating costs remained relatively flat year on year at R3.8 billion last quarter.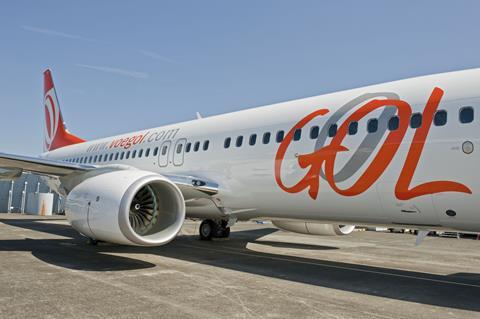 Its earnings before income, taxes, depreciation and amortisation (EBITDA) was R1.3 billion, up from R695 million last year, equating to a 26.8% margin.
The airline posted a net loss of R1.3 billion, down 16% from last year's loss of R1.5 billion, primarily due to financial losses and currency exchange rate fluctuations.
"Our third-quarter net revenue increased 16.4% year-on-year as Gol experienced a strong and steady domestic demand environment," the company says. "Our operational fleet utilisation remained high, with an average of 11.3 hours per day and we saw strength in our forward bookings."
"We continue on our disciplined path to profitable capacity recovery," adds chief executive Celso Ferrer.
The company carried 16.4% more passengers year on year during the quarter ending 30 September, and capacity (as measured in available seat kilometres) rose 5.2%. Gol's load factor was 83.7%, up 2.4 percentage points from last year's third quarter.
At the end of the quarter, the company's fleet included 141 Boeing 737s, of which 97 were older-generation NG models, 39 were Max models and five were freighters. The company has orders with Boeing for 106 additional 737 Max.
Like many peers, Gol has suffered from delays by Boeing in delivering aircraft. The airline had expected to receive 15 737s this year but has taken only one and expects to receive just four more before end-2023, it says.
"The main discussion [with Boeing] today is, how can we make sure that we catch up as soon as possible next year on the deliveries?" Ferrer says. "The best-case scenario today is to take five of 15, and we need the extra 10 sooner rather than later."
"There is no answer yet" from Boeing as to how that will be done, he adds.
The company has now tweaked its full-year expectations slightly lower, with revenue now expected to be R19 billion rather than the earlier estimate of R19.3 billion. Gol also adjusted its 2023 expected EBITDA margin from 25% to 24%.
AIRLINE COLLABORATIONS
Last month, the company renewed and deepened its partnership with Air France-KLM for a further 10 years. That partnership, which included cooperation on sales and codesharing, was initially struck in 2014 and renewed in 2019.
The fresh agreement expands codeshare flying, enhances joint sales activities and adds frequent flyer benefits, Gol says. It also includes what the partners describe as "an ambitious expansion" of the existing maintenance support by Air France Industries KLM Engineering & Maintenance to cover the CFM International CFM56 and Leap-1B engines powering Gol's fleet.
In addition, Gol's collaboration with American Airlines has also been "very strong", Ferrer says.
In 2021, the US giant invested $200 million in Gol in return for 5.2% of the company and a seat on its board. American saw the deal as strengthening its competitive position in Latin America, which eroded following both a failed joint venture with Chile's LATAM Airlines Group in 2019 and competitive incursions by Delta Air Lines.
"We are constantly reviewing how can we improve the partnership with AA," Ferrer says. "We are happy that American has now increased its capacity to Brazil" and Gol has helped funnel those travellers to various points within the country. "We foresee that the flows will increase into next year."