Heathrow airport's plans to increase its charges could prompt British Airways owner IAG to reconsider its use of the hub.
Speaking during the Airlines 2021 event in London on 22 November, IAG chief executive Luis Gallego said Heathrow is becoming "more and more expensive" and that its "leading position is not inevitable" if its charges to airlines rise at the upper end of the range allowed by UK regulators.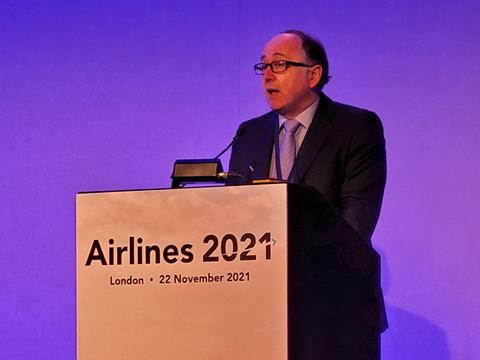 Should that happen, IAG "would not be alone in reconsidering Heathrow as a hub", Gallego states.
Such a move would put at risk UK's aviation's ability to compete "on the world stage", he says, adding: "It's up to our political leaders to ensure this continues at Heathrow."
Under current terms, operating from Heathrow is "a major advantage" in IAG's recovery from the pandemic, Gallego says, but a significant proportion of passengers could "easily go by other more competitive hubs" in the event of the London airport becoming too expensive, he insists.
In mid-October, UK aviation regulators set an initial range for Heathrow to increase its passenger charges by between 11% and 56% over the next five years, but rejected the hub's request for a higher rise to offset losses incurred during the pandemic.