Avelo Airlines' chief executive Andrew Levy says business travel will not return to pre-pandemic levels since new technologies have matured enough to make companies and employees think twice about corporate trips.
"I have shifted my view, and I don't think business is coming back like anything it used to be," the veteran airline executive says during a webinar sponsored by XML Financial Group on 24 January. "People have gotten too used to not travelling."
The pandemic has enabled people to realise the value of new technologies like video conferencing, and the value of the time they used to spend commuting or travelling for work, he says.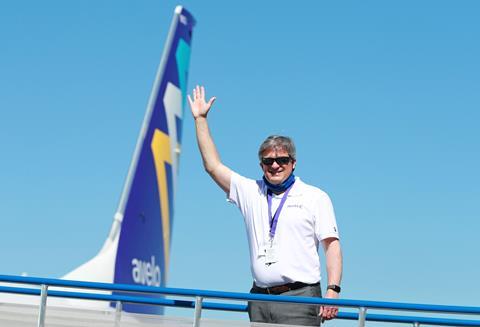 "As that behaviour has become entrenched, I think it's really going to be hard to reverse that trend," he adds. "I have shifted my own views [and now] think it will be well south of 100%."
That said, the start-up airline's target customers are not executives travelling on company time, but rather cost-conscious leisure travellers and passengers visiting family and friends. He anticipates Avelo will benefit from these new trends.
"More people are travelling for leisure, having flexibility in their lives, having the ability to fly and have three- or four-day weekends, doing some work but doing it remotely," Levy says. "That's right up our alley."
Houston-based ultra-low-cost-carrier Avelo, which launched flights last April, plans to add nine aircraft to its all Boeing 737 fleet this year. Three airframes will arrive in the second quarter, two more by July and four more at the end of the year, he says. Avelo currently has six aircraft in operation.
Levy adds that the carrier aims to expand its route network by 40 cities during 2022, but he does not specify which ones.
"We think there's a tremendous opportunity, and it's just a question of being disciplined about how we go about it," Levy says. "The race goes to the tortoise, slow and steady is the way to go."
Avelo plans to add 450 employees this year, 120 of which will be pilots. He hopes to attract cockpit crew with a new pay scale that puts Avelo at the top of ULCCs. Avelo is also offering new pilots signing bonuses of $20,000.
"There is a supply-demand imbalance for pilots," he says. "The pandemic… put that on pause for a bit, but now we're back where we were before the pandemic."