Start-up leisure carrier Canada Jetlines has pushed back its launch date, less than two weeks before it was due to operate its inaugural flight.
The Vancouver-based company said on 4 August it has "tentatively rescheduled" its first passenger revenue flights to 29 August, from 15 August, "subject to licensing approval" from Canadian aviation authorities.
The carrier had expected to receive final certification from Transport Canada by July, but that approval has not yet arrived.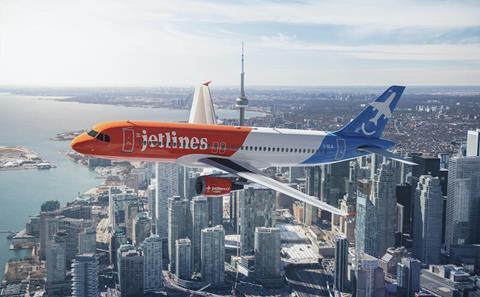 "We've made the difficult decision to change our launch date as we continue to work with the regulatory authorities in Canada to secure our [air operator certificate]," says Canada Jetlines chief executive Eddy Doyle. "We will continue to build strategic partnerships with destinations, travel agencies, and airports as we build out our five-year strategy."
The carrier, which currently has just one used A320 aircraft in its fleet, had said at the end of last month that its first revenue passenger flight would be a Toronto-to-Winnipeg leg, on 15 August.
"Canada Jetlines is working closely with Transport Canada and Canadian Transportation Association, who are currently evaluating all completed documentation required for this application," Jetlines adds.
The carrier says it still plans to fly its first customers "before the end of the summer season".
Jetlines has been many years in the making. The airline went through numerous top management changes since coming onto the scene in 2015. It is the second of two start-up Canadian discount airlines slated to launch this year. The other, Calgary-based Lynx Air, began revenue flights in April using new Boeing 737 Max 8s.
Lynx and Jetlines join WestJet subsidiary Swoop and Flair Airlines – both of which operate Boeing 737s – in that country's low-cost segment.
Jetlines has said it plans initially fly to destinations in Canada, and its website currently offers flights between Toronto, Winnipeg and Moncton, New Brunswick. The carrier said it plans to expand to sun destinations like Florida, Cancun, Las Vegas and Cuba. Its fleet plan calls for expanding to 15 aircraft by 2025.