Canadian operator Cargojet Airways posted a C$30.5 million ($22.5 million) profit amid "softer economic conditions" during the first three months of 2023, compared with a C$56.4 million loss during the first quarter of last year.
Revenue was down slightly, to C$232 million from C$234 million during the same three months of 2022, it said on 1 May.
"Cargojet is not immune to the softening industry trends as well as the macro factors of slower economic growth, higher interest rates and persistent inflation," says Ajay Virmani, Cargojet's chief executive.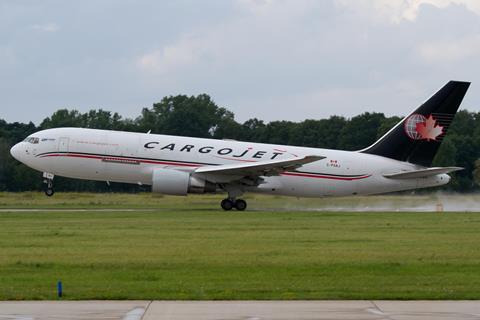 The Toronto-headquartered company's costs increased 12% year-on-year – to C$186 million from C$167 million.
The hauler operated slightly more block hours during the three months ending 31 March, flying its fleet of Boeing 757-200s, 767-200s and 767-300s a total of 17,830 hours.
Revenue from Cargojet's aircraft, crew, maintenance and insurance (ACMI) agreements was $62.8 million, compared with $52.7 million during the same period of 2022.
Noting that consumers have been prioritising travel and leisure spending in recent months, Cargojet anticipates that "these consumption behaviours will continue to normalise during the latter part of this year, setting the stage for a more balanced mix of spending between goods and services".
Virmani says the company is realigning "every aspect of our cost structure with the current demand levels", including changes to its network.
"With some of the world's biggest package delivery companies as our customers, we expect to resume growth as the economic cycle turns the corner," he adds.
Billing itself as "Canada's leading provider of time-sensitive premium air cargo services to all major cities across North America", Cargojet says it operates a fleet of 40 aircraft.