US discounter Frontier Airlines has cut its capacity forecast for the third quarter based on lower bookings and higher fuel prices, making it the latest North American carrier to lower expectations for the period.
The Denver-based airline now expects 20%-21% passenger capacity growth over the third quarter of 2022, compared with its previous estimate of 21%-23% growth.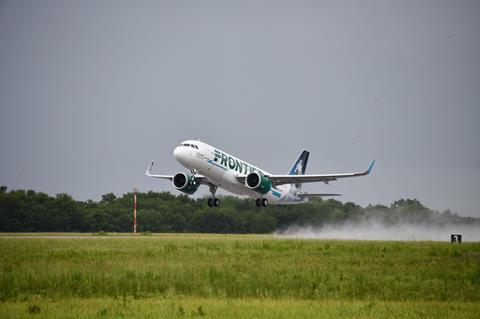 "The company's updated guidance reflects a recent significant unexpected change in the booking trajectory along with higher fuel prices and a greater volume of recent operational cancellations than forecast," Frontier said in a 13 September filing with the US Securities and Exchange Commission.
Sales have been "trending below historical seasonality patterns" for several weeks, says the ultra-low-cost carrier (ULCC).
"Over the last couple of weeks, things have changed and sequentially gotten worse," says Barry Biffle, the carrier's chief executive, during an 13 September investor conference. "You've gone from industry sales being flat to now being down versus 2019… You've got fuel, capacity and demand all heading the wrong direction."
Frontier has raised its estimated average fuel cost per gallon to $3.05-$3.10, compared with its previous expectation of an average fuel cost between $2.80 and $2.90.
"Fuel prices for the quarter are expected to average approximately 23 cents per gallon more than previously forecast, based on the fuel curve" as of 8 September, the ULCC adds.
Frontier is the latest US carrier to raise its fuel-cost estimate for the third quarter – joining Alaska Airlines, Southwest Airlines, Spirit Airlines and United Airlines – and to describe operational difficulties related to weather and other factors.
High numbers of cancellations due to inclement weather is proving to be an ongoing issue for Frontier.
"Operational cancellation levels are elevated relative to management's earlier guidance for the quarter driven in part by the impact of Tropical Storm Hilary and Hurricane Idalia, as well as continued challenges with the operating environment," Frontier says.
The also carrier continues to experience "ATC challenges", Biffle says, referring to the Federal Aviation Administration's staffing shortages for air traffic controllers – particularly in the Northeast USA. The latest major East Coast disruptions that Frontier blames on air traffic control ground delay programmes occurred "as recently as last weekend".
"Over the weekend, we had storms – not storms, this was rain," he says. "We were shocked that rain is causing hurricane-proportion cancellations. We had 1,500 cancellations on Thursday and Friday. It took until Monday to clean this up.
"We are going to be working with them to stop some of these knee-jerk reactions," Biffle continues. "But ultimately what we have to do is schedule around it."
Simultaneously, demand for leisure travel is sagging. "We're probably more affected than others because we do have a short booking curve," Biffle says. "We're kind of the canary in the coal mine, if you will."
Frontier will "engage in self-help" by "doubling down on cost", he adds. "One of those things will change… in the fuel demand or capacity dynamic."
"The company's ultra-low cost business model is designed to provide Frontier with a cost advantage and we intend to remain extremely focused on our cost structure in the face of the current demand environment," the carrier says.
For the second quarter of 2023, Frontier generated revenue of $967 million, up 6% from $909 million last year, the carrier said during its earnings call last month.