IATA has highlighted "record levels" of freighter demand amid a fall in passenger flights that has reduced global air cargo capacity by around 30%.
Glyn Hughes, the airline association's global head of cargo, notes that freight carriers are responding to the surge in demand by delaying the retirement of aircraft.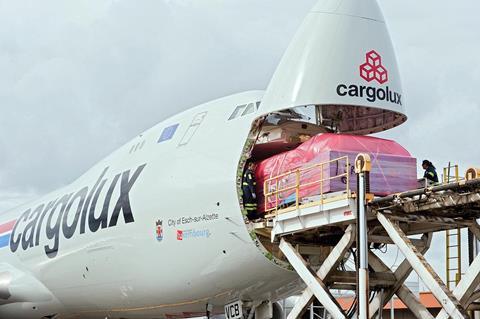 Air cargo prices are meanwhile on the rise, he notes: "When you have this much demand for reduced capacity, it does have an economic impact."
Normally, passenger flights carry around 40-50% of global cargo capacity in their bellies, but the picture has been dramatically changed by cancellations because of the coronavirus and travel restrictions.
IATA estimates that total cargo demand as measured by revenue-tonne kilometres fell 10% globally in February as China's economy reeled from the coronavirus. For March, the association expects a significantly greater reduction in cargo traffic, while for the whole of 2020 it sees a fall of 10-15%.
While there has been a sharp decline in air cargo demand from sectors such as automotive manufacturing, this has been partially offset by an increase in shipments of medical equipment.
Yet the reduction in passenger flights is "taking a huge amount of cargo capacity offline", notes Hughes, though many passenger airlines now operating cargo-only flights.
IATA is calling on governments to smooth the process for transporting air cargo in order to ensure that supply lines remain open.
"Air cargo is a vital partner in the global fight against Covid-19," states director general Alexandre de Juniac. "But we are still seeing examples of cargo flights filled with life-saving medical supplies and equipment grounded due to cumbersome and bureaucratic processes to secure slots and operating permits."