The head of the Independent Pilots Association, the union representing pilots at international cargo carrier UPS Airlines, says that the coronavirus could have a "significant impact" on the airline's operations and sharply criticises the company for neglecting to keep cockpit crew safe from the highly-contagious virus.
In a letter sent to UPS chief executive Carol Tome on 29 October, the union says that pilots have been unnecessarily exposed, thus risking their health and the company's ability to do business.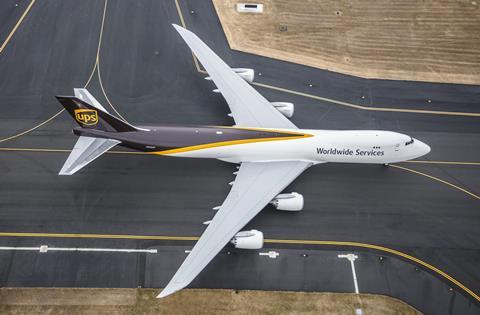 "The UPS pilot group is indeed experiencing a significant increase in the number of pilots testing positive for the virus," writes Robert Travis, himself a pilot for the cargo carrier and president of the union. "In the absence of effective, timely action on the company's part, our concern is that the spread of the virus could have a significant impact on UPS operations."
The Atlanta-headquartered cargo operator responded to the charges saying it has "gone to tremendous lengths to keep our pilots safe during the coronavirus pandemic", equipping crewmembers with personal protective equipment, introducing enhanced cleaning protocols and providing them with information on health requirements in their destination countries.
"As essential workers, our pilots have been heroes during the pandemic, operating flights that are saving lives and livelihoods all over the planet," UPS says.
IPS' Travis goes on to criticise the company for its "woefully inadequate" testing programme, seemingly arbitrary decisions on quarantine as well as "flawed, inconsistent" contact tracing efforts that could have prevented further spread of the virus among the group.
He also describes several examples where cockpit crew have been put into situations that were detrimental to their own health.
"We currently have an asymptomatic pilot testing positive who is now hospitalized in Hong Kong against his will. The UPS pilot now shares a room with an individual just three feet away who is suffering from Covid, and is in the process of being placed on a ventilator," he says.
UPS maintains that it has done all it can to support the pilot group, and calls the union's claims "baseless".
"We have allowed our pilots to request alternate flight schedules, provided them with free, rapid Covid-19 testing, and worked with government entities to ensure our crews' safe and healthy transit through nations around the world," UPS says.
The cargo carrier published third-quarter results on 28 October, reporting a 16% increase in revenue to $21 billion.